How to Create a Gallery Wall of Family Photos
 Photos are such an important way to make sure all those special moments and milestones in life are never forgotten. I can't think of a better way to display photos than in your home for all to enjoy. Today, I'm going to share how to easily create a gallery wall of family photos.
Since the day I was married I have always had a gallery wall full of family pictures. Growing up my mom would spend hours upon hours creating gallery walls for each home we lived in.  She would plan it out well in advance and tape the walls to make sure each frame would fit just perfectly. When we moved her into memory care, we brought all of her pictures and hung them on her walls to keep her memory alive for as long as we could.  Since her passing, I have many of those pictures still in their frames ready to be hung.
I used to have 1 very large family picture in our great room / family room, the frame was in need of an update and I  was ready for a change. Yet,  I had a really hard time getting rid of the picture from when the kids were all so little. I have become extremely sentimental as the kids get older and time just seems to fly by.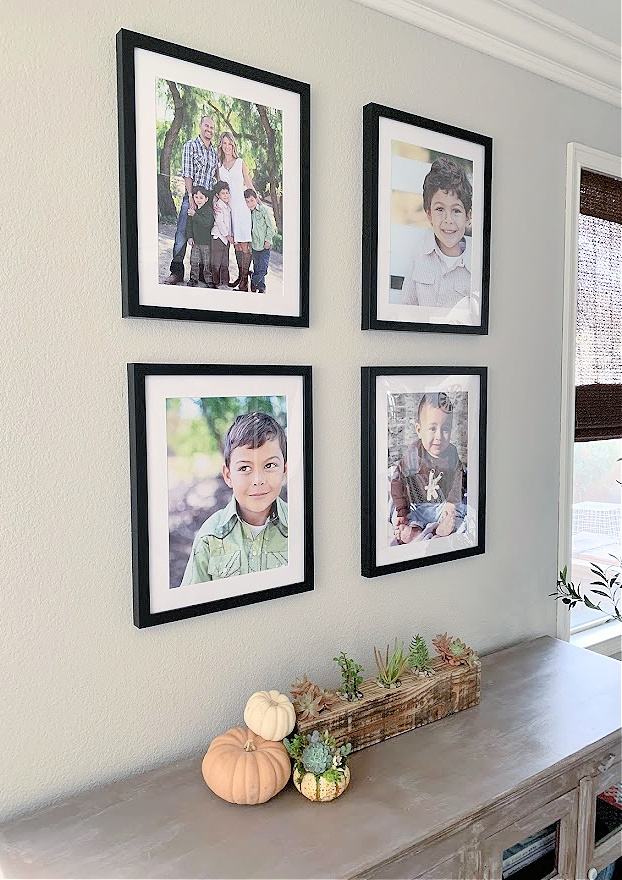 Make sure you scroll all the way to the end for HUGE savings
*FTC Disclosure: I received these products for review as well as a fee for writing this review. As always I do not review anything I don't love and stand behind.
I was excited when CanvasDiscount.com reached out to collaborate with me on our new gallery wall. They have a variety of items to choose from so you too can create your gallery wall; framed prints, canvas prints, metal prints, posters, and so much more. If this is your first time creating a gallery wall look, I'm sharing the best way to bring those family memories to life and give that blank space the perfect focal point in your own home.
Choose the location
I personally love a long hallway filled with beautiful family pictures. Our house has a long hallway upstairs but not many people go upstairs other than us. Downstairs would be best so everyone can enjoy them. The downstairs is broken up by lots of windows so I decided the best spot is over a piece of furniture that has plenty of wall space. For other gallery wall ideas try placing frames going up the staircase, display picture frames over a long sofa with a large wall or in the dining room.  Another great way to display a gallery wall is around a TV or fireplace.
Plan your gallery wall layout
Before you order all of your pictures and frames, decide if you want a grid wall or an asymmetrical display. Create paper templates of each frame using kraft paper and stick these onto the wall using painter's tape to see if this is what you envisioned in the space.  Always keep in mind the width and height of the wall so you have a cohesive look in the end.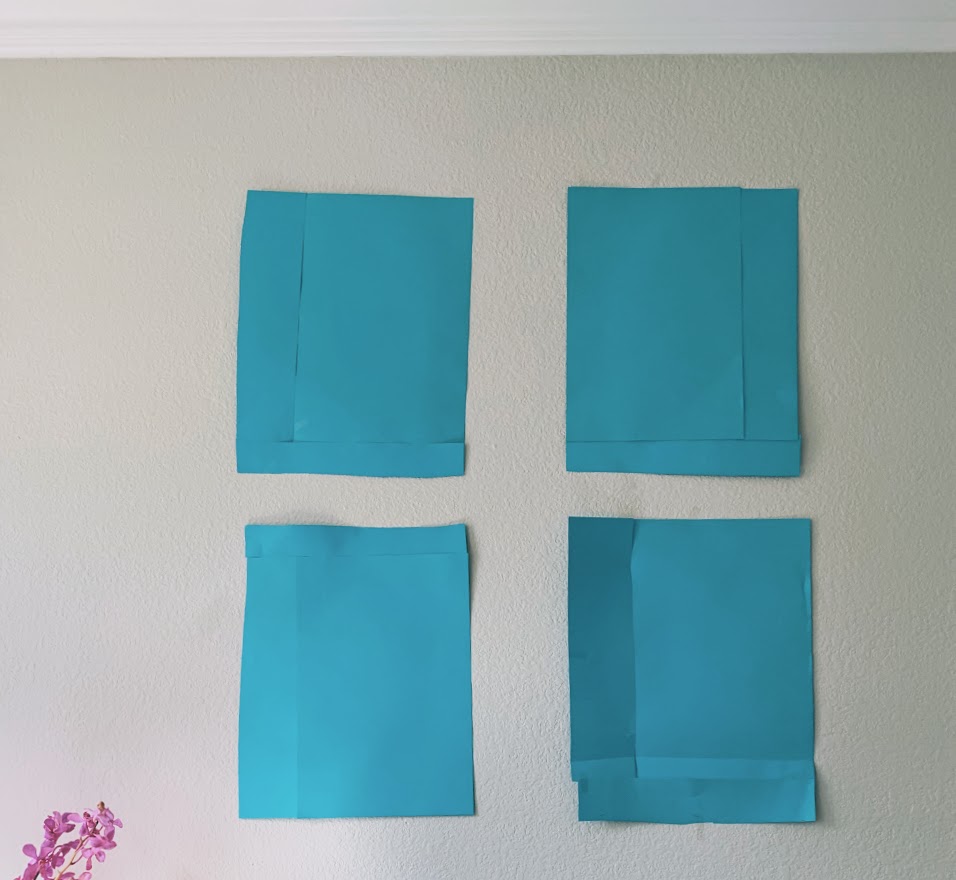 Choosing your frames
An important thing to keep in mind is to use large images with big frames and oversize matting for a big impact. One mistake I see is trying to fill a wall with photos that are too small. Larger photos will look the most streamlined and professional. I went with the 16×20 framed photo with black frames and white mats, they are beautiful and a wonderful way to display your family photo gallery wall
Choosing your photos
Choose your favorite photos that your whole family will love. I was leaning towards black and white photo's but the boys all wanted color, so color it was. We went through our family portraits from years ago and each person choose their favorites and I sent my order in and received it back in less than a week. Easy Peasy!
Hang your photos
I suggest you have a measuring tape, a laser (optional), pencil and a level and of course either a nail and hammer or screws a screwdriver. I have designed many gallery wall spaces and have found this the easiest way to create a family photo wall.
Put the craft paper back up on the wall, make sure you have even spacing between the pictures, as well as on each side of the pictures. Mark where the top of the picture frame will go with a pencil, as well as the left and the right edge of the picture frame, so you can accurately level it both vertically and horizontally. Take your craft paper down.
I placed the laser on the wall and made sure the light passed through the horizontal marks that indicate where the top of the picture will hang. Make sure the little bubble in the laser is right in the center, adjust accordingly. Mark where you want to drill with a pencil.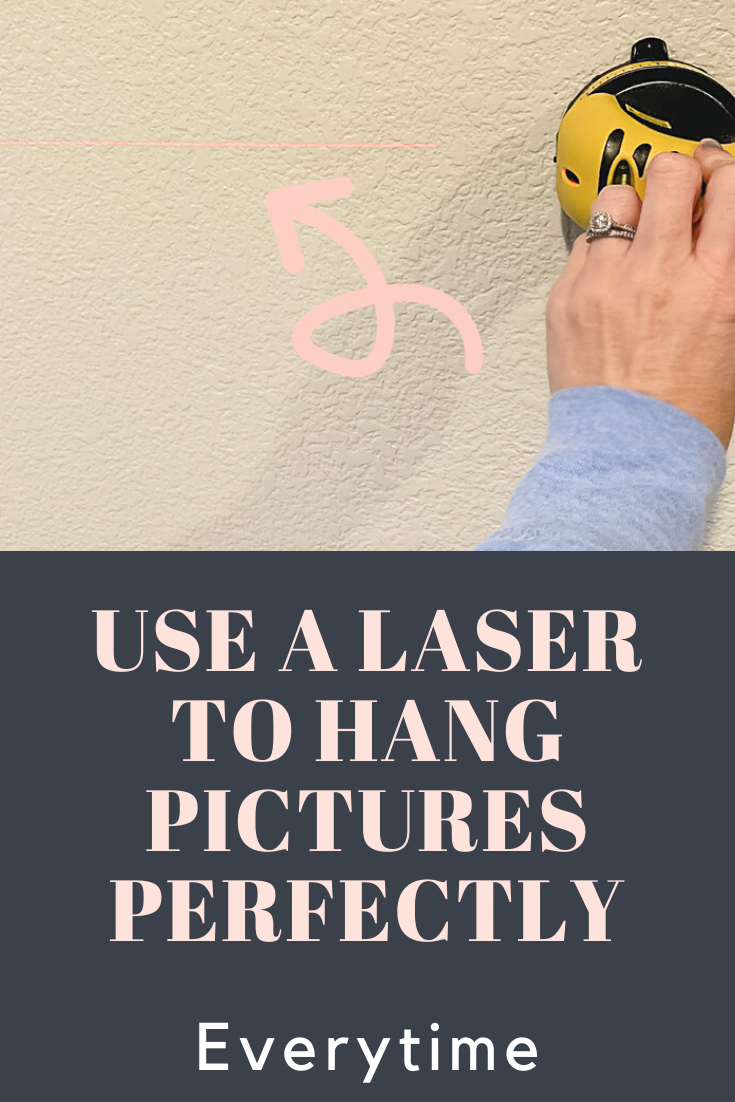 Now that you have a perfectly straight line, double-check and hold the level up on the marked lines and again on the pictures while holding them up on the wall.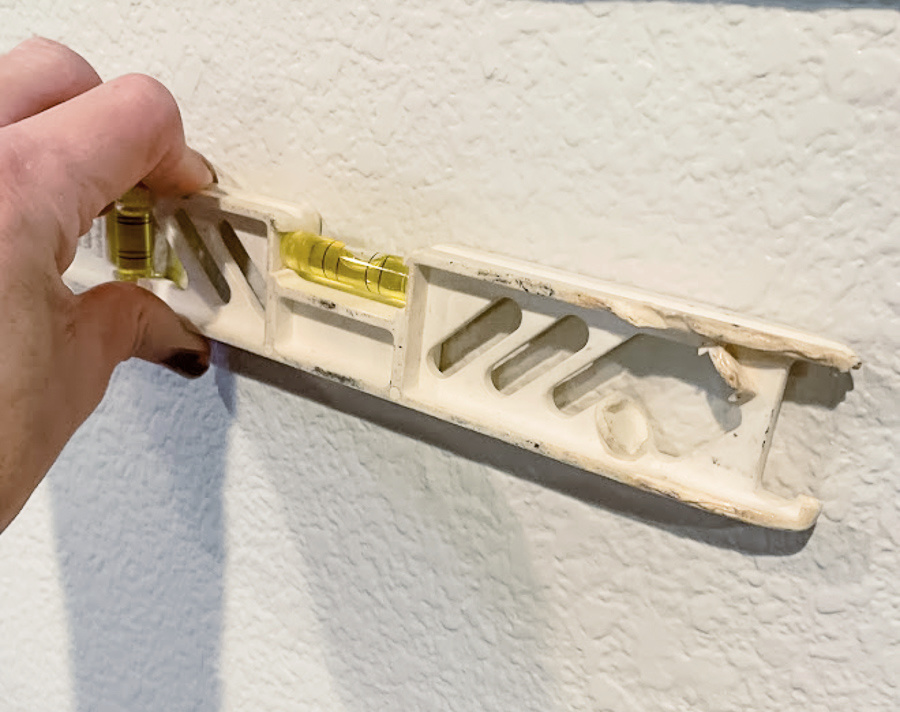 Since my frames were on the larger side, I added 2 hangers, simply measuring the distance between the center and the edges of the picture.
Drill your screws into the premade marks and hang your beautiful pictures.
Tip: If for whatever reason you are just slightly off you could use double-sided indoor mounting tape and adhere it to the top of the screw instead of drilling new holes.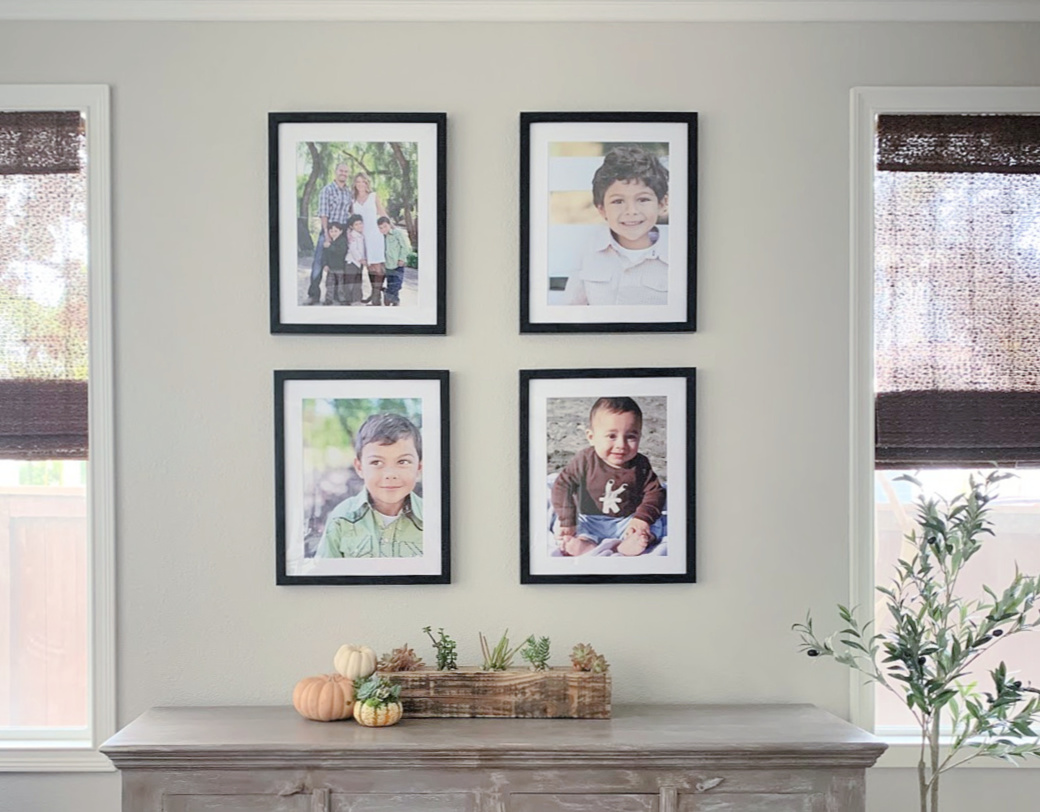 I love how this gallery wall brings me back to all those memories I hold so dear to my heart, truly a meaningful DIY project!
It was the perfect spot to share this beautiful display of some of our favorite family photos. I sincerely hope this post has inspired you to go through your phone photos or if you are like me, dig out your old CD's with family photos and create a family gallery wall.  These would be perfect gifts for the holidays!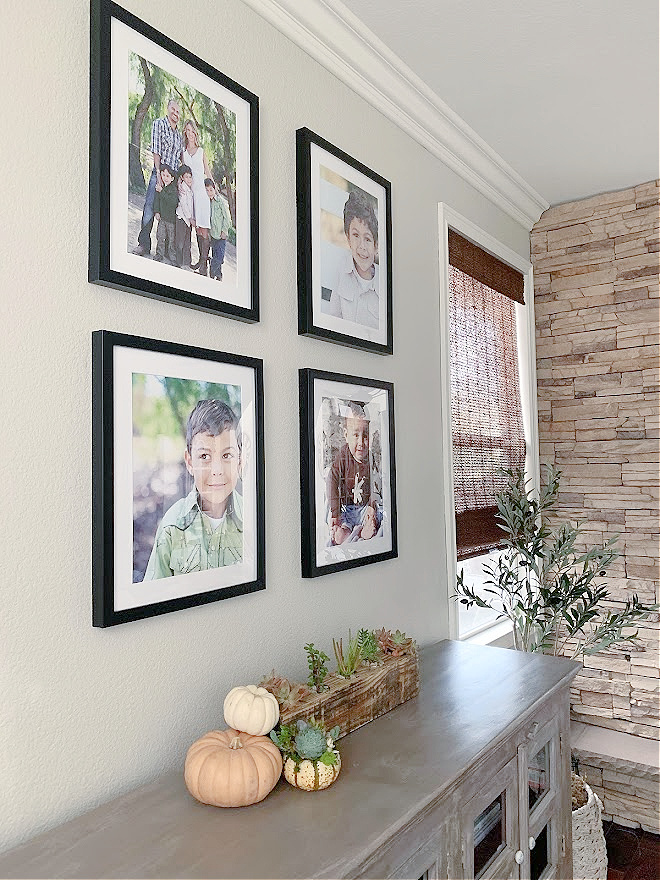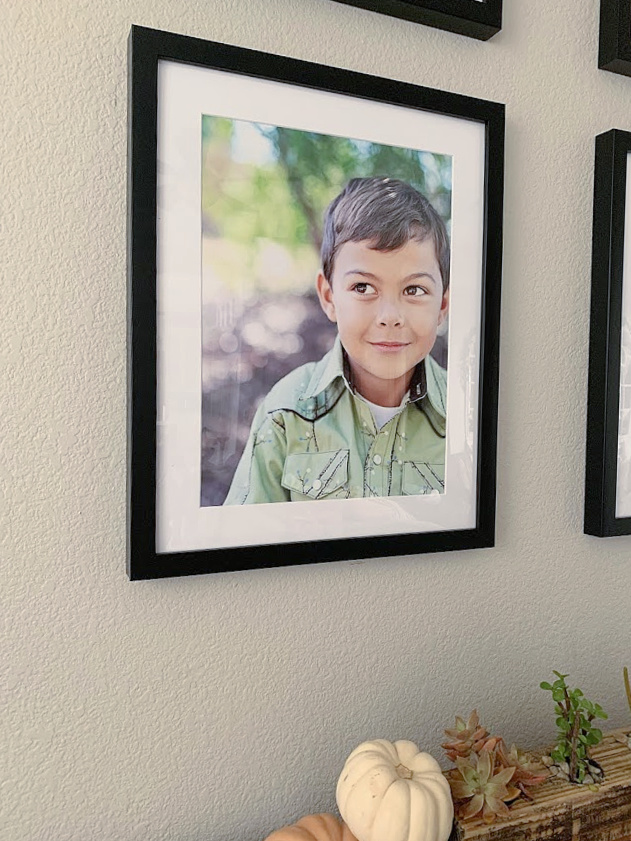 Are you ready to start on your own gallery family wall? Head over to CanvasDisount and use code UNCOMMONSLICE25. This will give you an additional 25% off on top of the already discounted prices, in total a savings of more than 90%!  You will find affordable, customizable, and high-quality wall art and prints to create the gallery of your dreams!
If you aren't ready to start a gallery wall, no worries, they specialize in producing customized, high-quality wall decor and lifestyle accessories as well, I know you are going to love them!
Minimal order value 50$, excluding MIXPIX and face masks
Follow me on Instagram to see what I'm up to next!