Rustic Elegant Fall Home Tour
This post may contain affiliate links
Today I'm sharing our rustic elegant fall home tour…….with a twist!   l'm going to let you in on a little secret,  our home is never 100% ……so I'm keeping it completely real!
You know those yummy-looking sometimes unhealthy meals I share, the somewhat cute crafts, the room reveals, the home tours, notice you never see the first and second floor at the same time.  Well, today, you get a behind the scenes look at the mess behind the sometimes pretty pictures I try my best to create for you.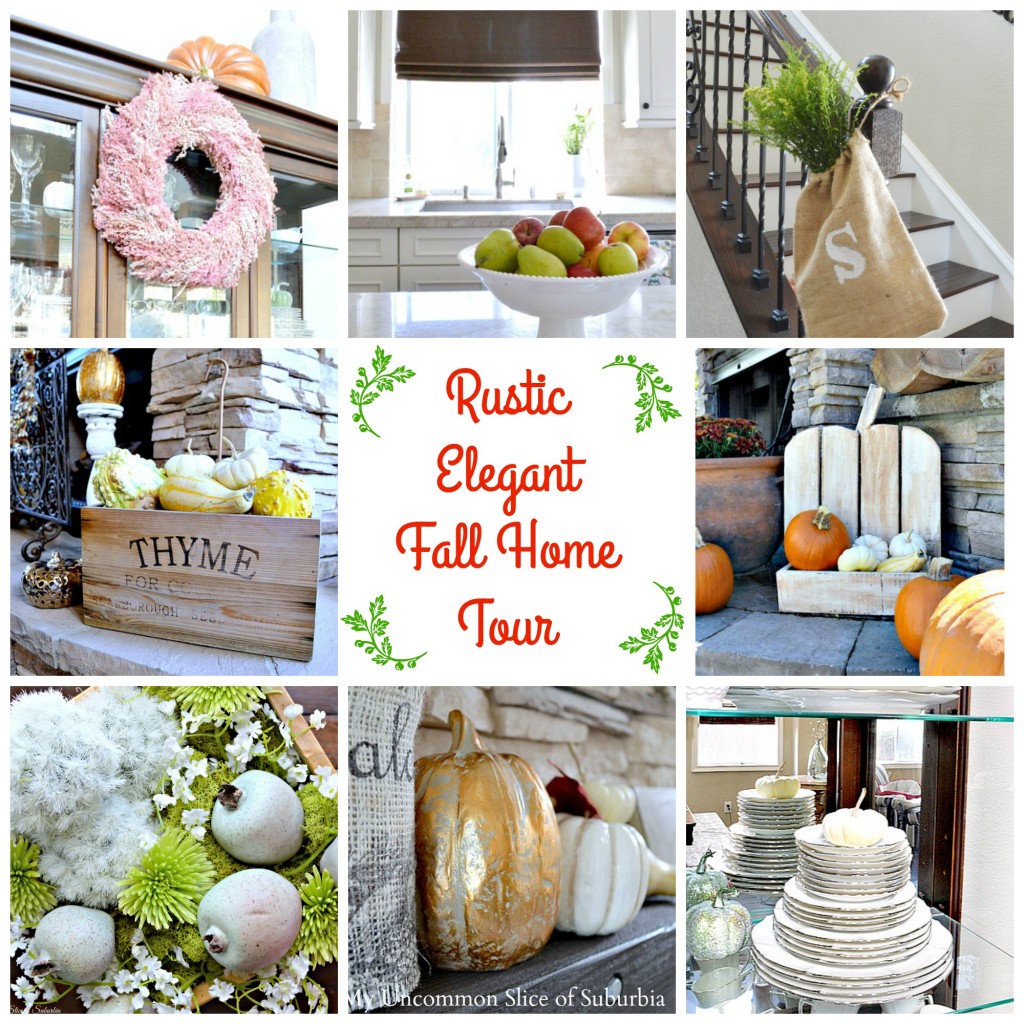 I was on a huge budget this year which means zero budget so I worked with what I had unless it was fresh flowers or pumpkins/gourds.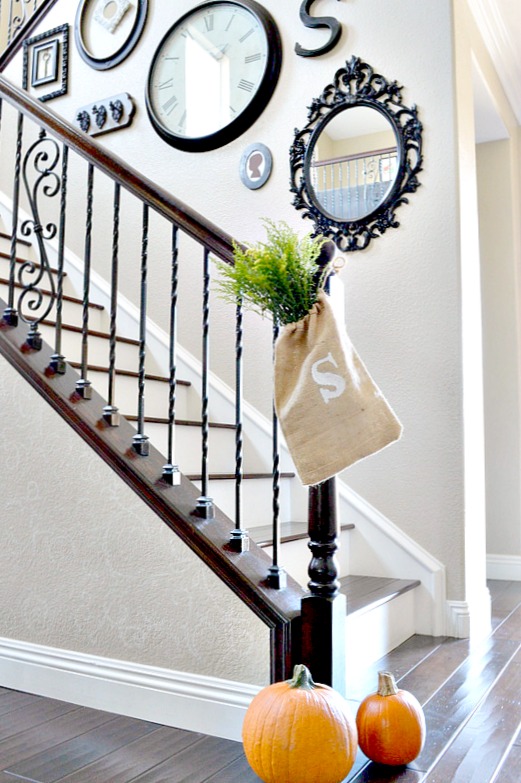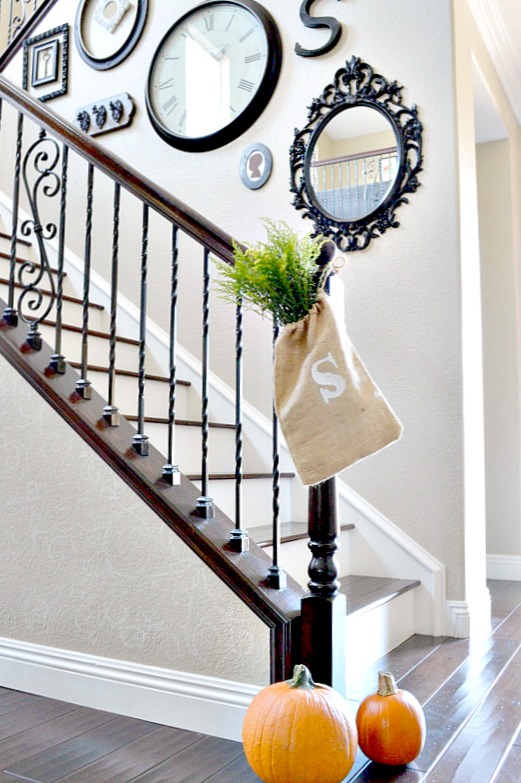 For the fireplace this year, the only thing purchased was little white pumpkins and squash from Trader Joe's.  When we originally completed  our kitchen (the first time before the mold) I had purchased these cute nesting crates which have since landed outside in a pile of junk. I salvaged the Thyme box and added the cute pumpkins.  I thought with a little rustic charm should come a little glimmer so I brought out the metallic pumpkins.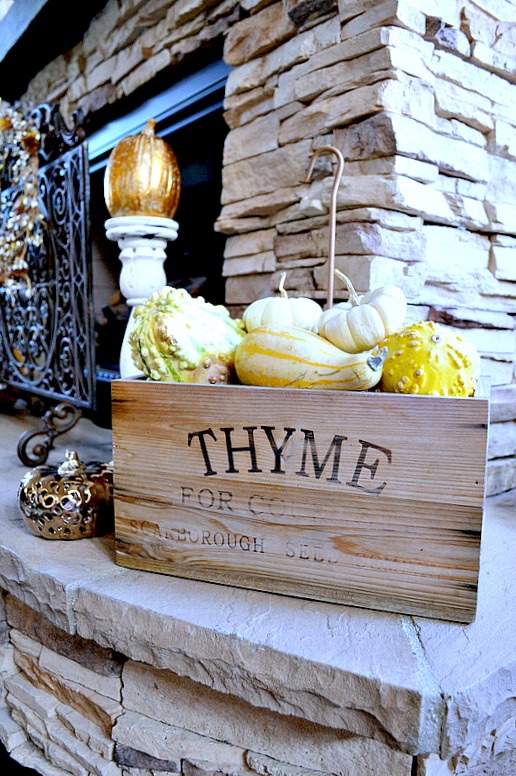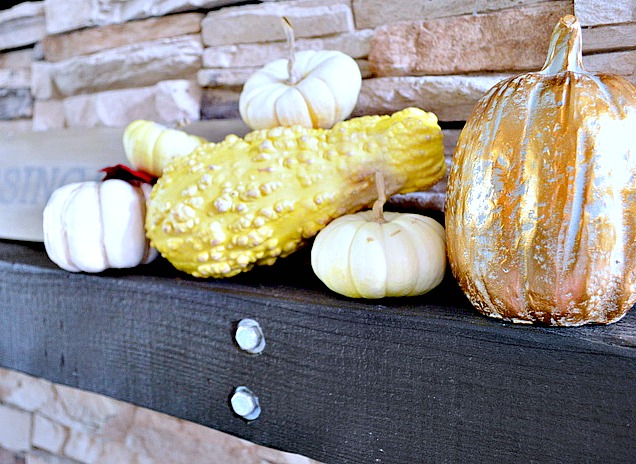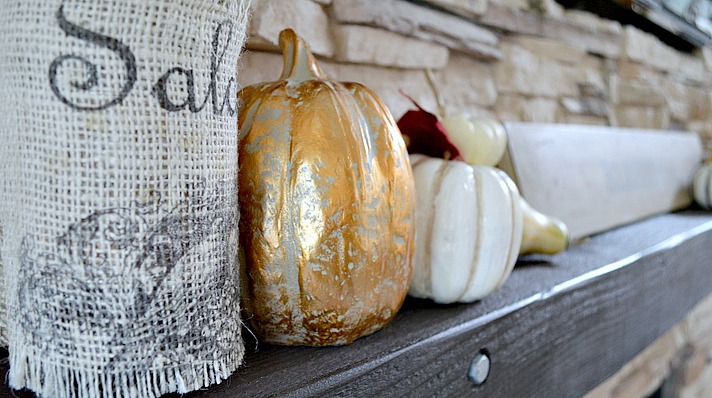 Before we move into the kitchen,  I will say, my husband and I clean the kitchen every night after dinner!  I can't stand waking into a dirty kitchen in the morning.  I like to stumble in, 1 eye opened and wait patiently for my coffee to finish. So yes, I do wake up to this every morning however, within an hour and a half, well, you will see.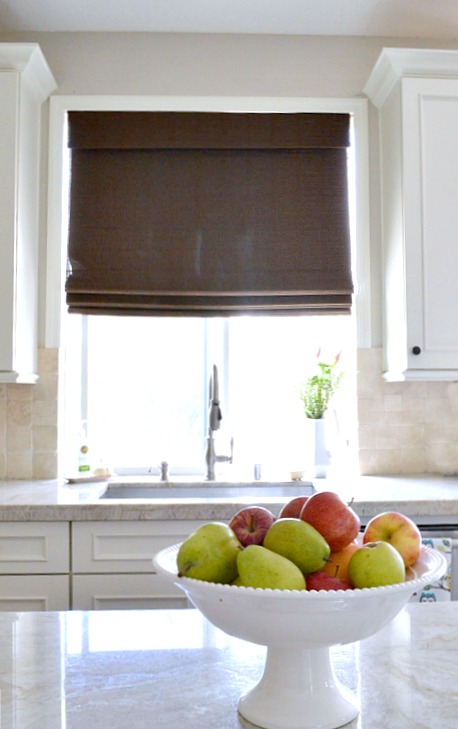 A bowl of fruit and a tiny white pumpkin makes for a beautiful fall display in any kitchen, simple and easy, a perfect combination!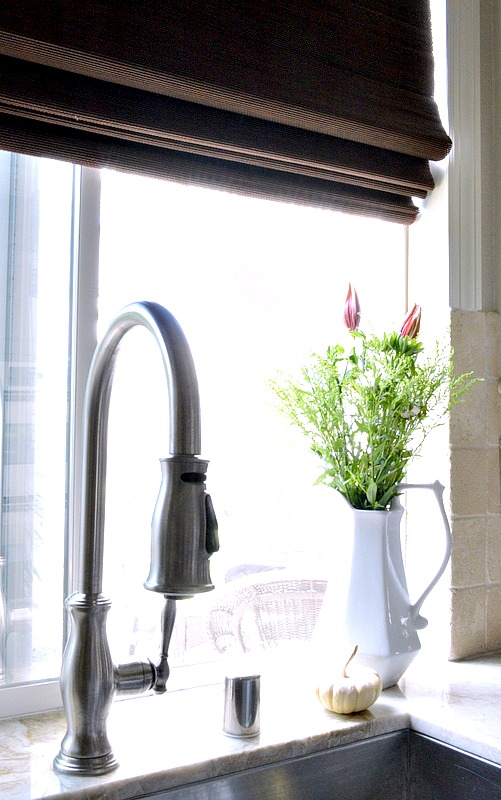 Now here is the reality of it all. It's 7:30 am kids just left for school, I have packed lunches, made breakfast,  made sure homework is complete and signed, taken 2 round trips to and from school and told them I love them like million times because life these days scares the crap out of me.  So when I come back I haven't finished putting away dishes, Nate's work is still in progress on his tiki mask, glue gun out from a christmas ornament you will see on Wednesday and yes, I'm still not done.   Hammer, hmmmmm, really not sure, dog treats so they will go potty in the morning because they are spoiled  and who knows what else.  It's called life, family and love and I wouldn't change it for anything!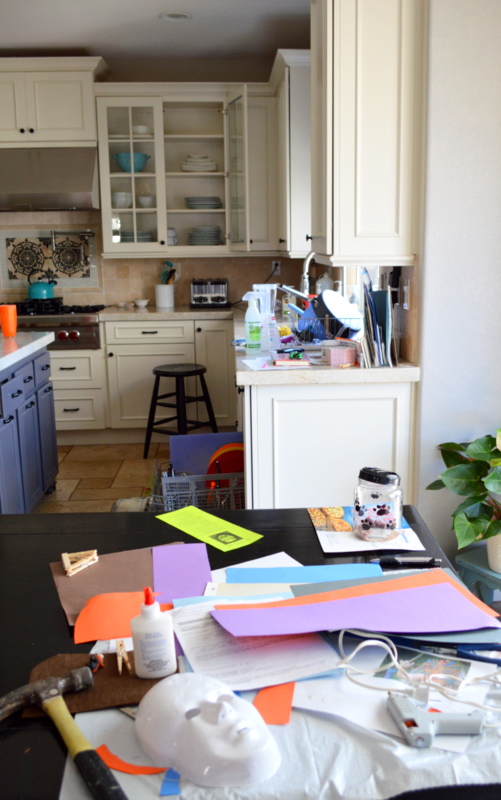 Heading into the dinning room, a faux pumpkin and wreath decorated the buffet and a few sparkly pumpkins I  scattered inside, again simple!
If you are not able to buy real pumpkins you can always purchase faux ones here, they last  a lot longer too!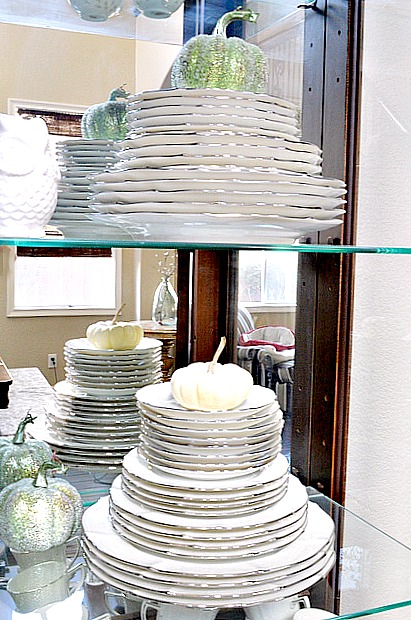 For the centerpiece I created something in 10 minutes, you can find that tutorial here.  I'll  be sharing our Thanksgiving tablescape next week.
OK and once again, the reality shot.  This is what the dinning room looks like pretty much everyday until kids bring their laundry upstairs because that is one thing I won't do.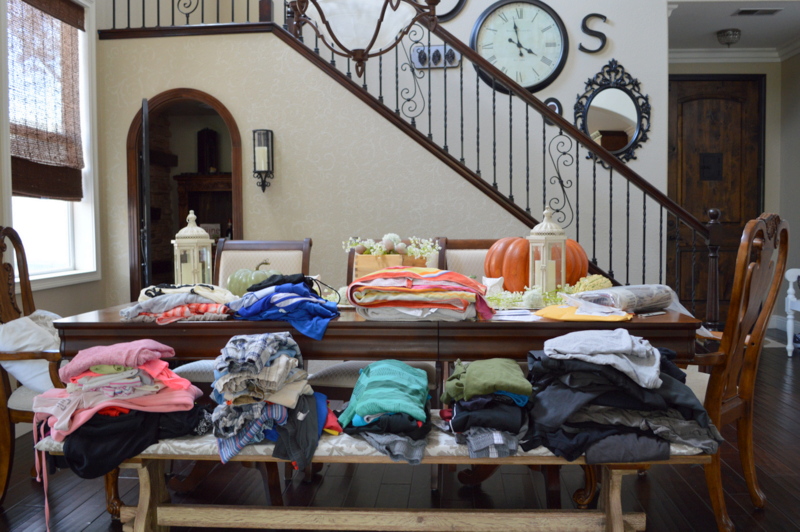 Outside you will find more pumpkins surrounding the rustic fireplace we completed this past summer.   Being in a drought here in California I can promise you those pretty mums are on their last leg.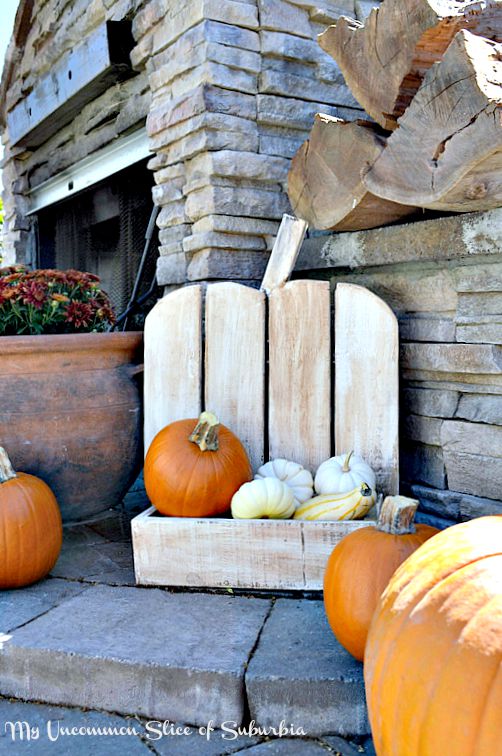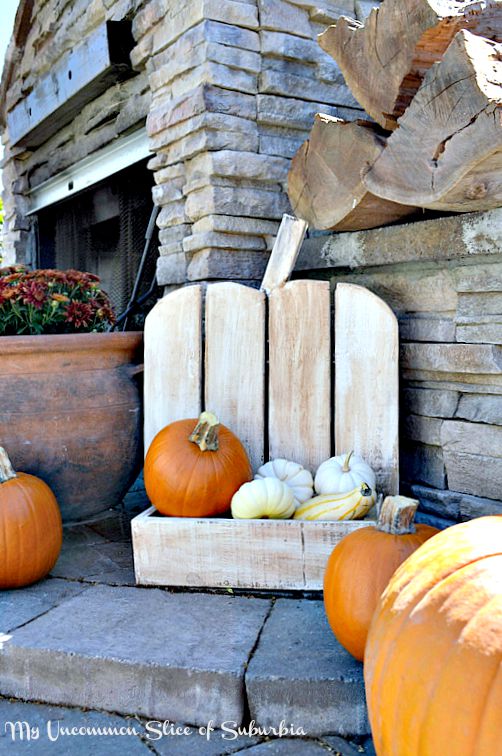 And just for the fun of it, how about some more behind the scene shots.  Neighbors dog looking out the window waiting for mom to come home.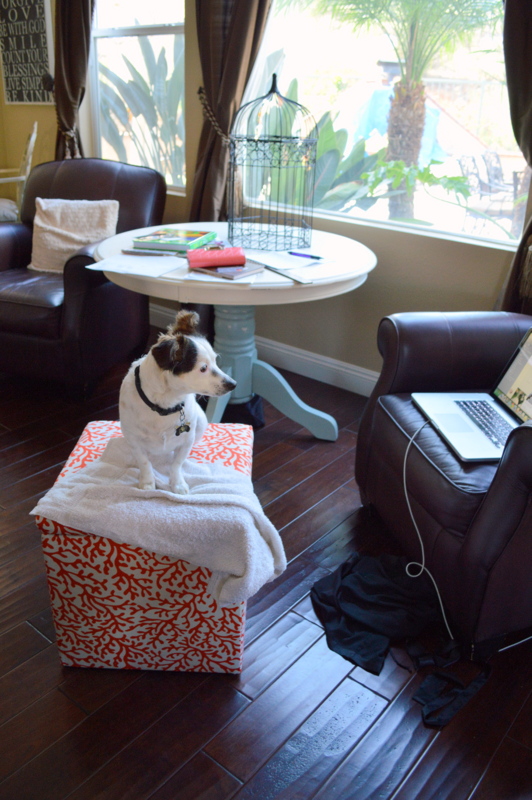 Sophie loving the warm rugs just taken from the dryer and more projects in the works for Christmas, yes Christmas.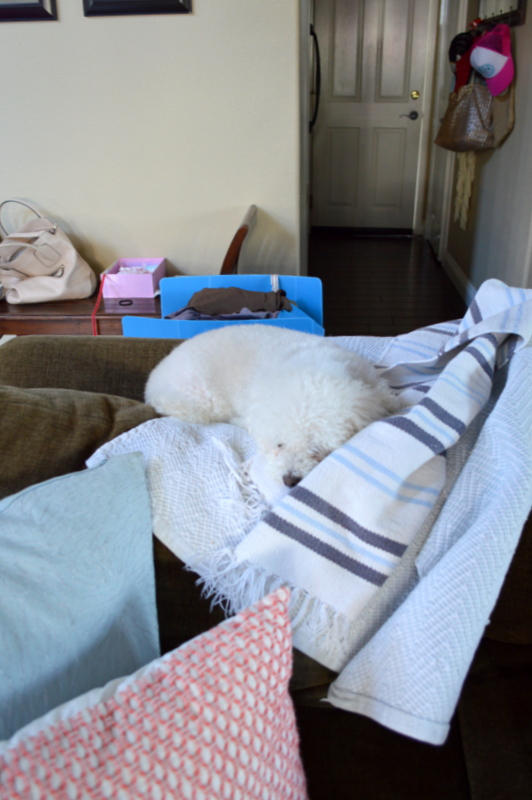 So there you have it,  I pretty much just shuffle crap from one corner to the next so I can get that perfect picture for you, your welcome! So please, don't ever get caught up in the beautiful pictures of perfect homes and think that it's always like that because it's not.  
Now, grab a cup of coffee, maybe a glass of wine or 2 and go have a look at all these fabulous fall home tour's with a little dose of reality tucked away in each!  Enjoy, I know you will.