Holiday Housewalk 2020 Our Christmas Home Tour
Welcome to our 2020 Christmas Home Tour, wow time really flew by! I am beyond honored to be a part of Jennifer Rizzo's Holiday house walk and this year we are celebrating 10 years!  Each day this week bloggers have opened their doors and invited you inside to tour their beautiful homes, each home is magical and unique in its own way!
I know Christmas might look a little different this year, but I hope that you're able to focus on the good, find those little things that make you happy and find beauty in the small things. I know, it's not easy and each day I remind myself that I have my family, our health, a roof over our heads and a warm meal on the table.
I am now able to see my mom (It had been a very long 6 months) because of some unfortunate circumstances but I am grateful I can now be with her as she transitions into another stage of life.  This year, more than ever, I am so thankful for my family and feel the blessings that surround me on a daily basis.
So with all of that being said, I am keeping it simple over here this year, You can start here at the beginning if you're just hopping on to the tour.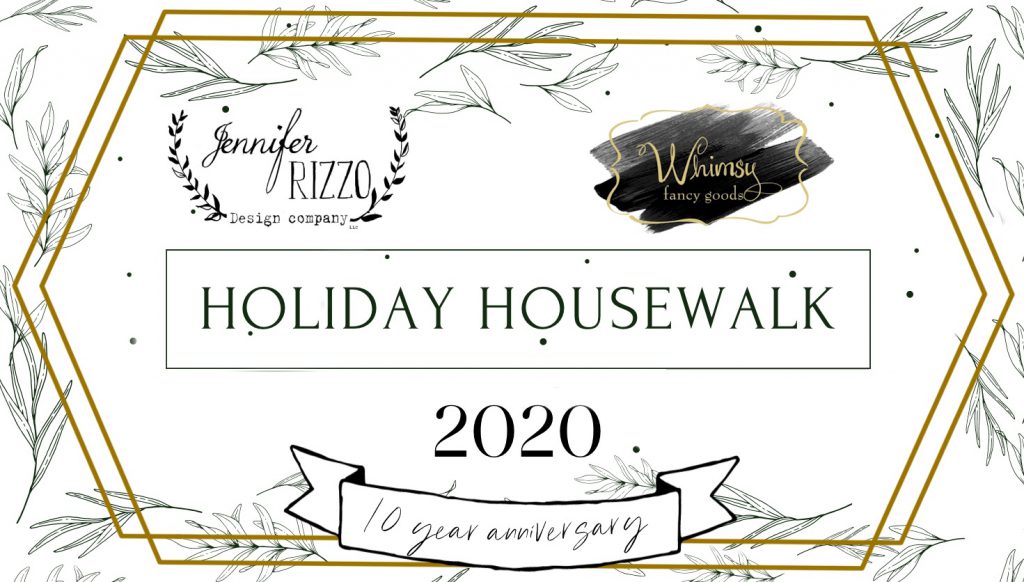 If you are stopping by from Tatertots and Jello welcome!  I adore Jen's gorgeous home, she is extremely creative and is such an inspiration, she has such a special way of making everything beautiful and you are going to love her colorful home!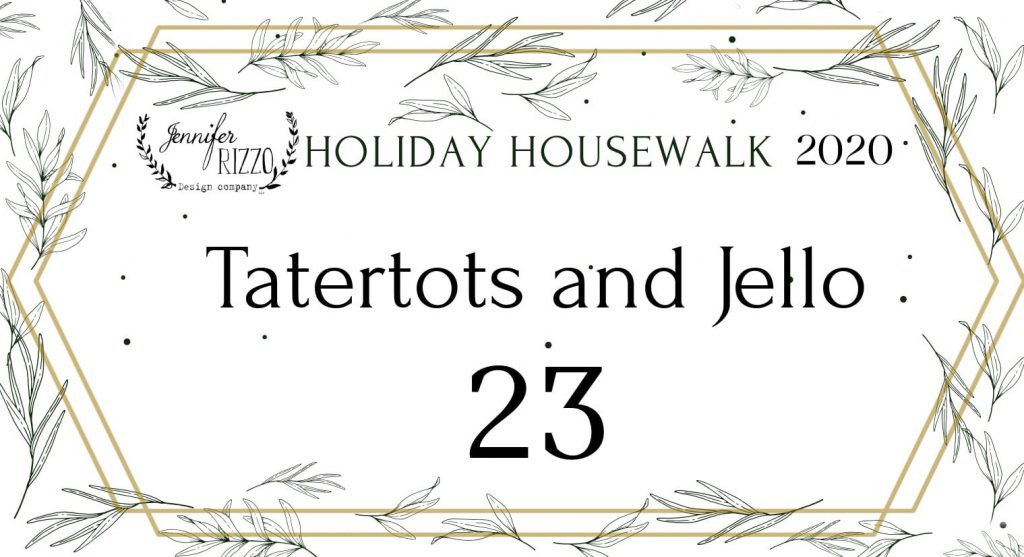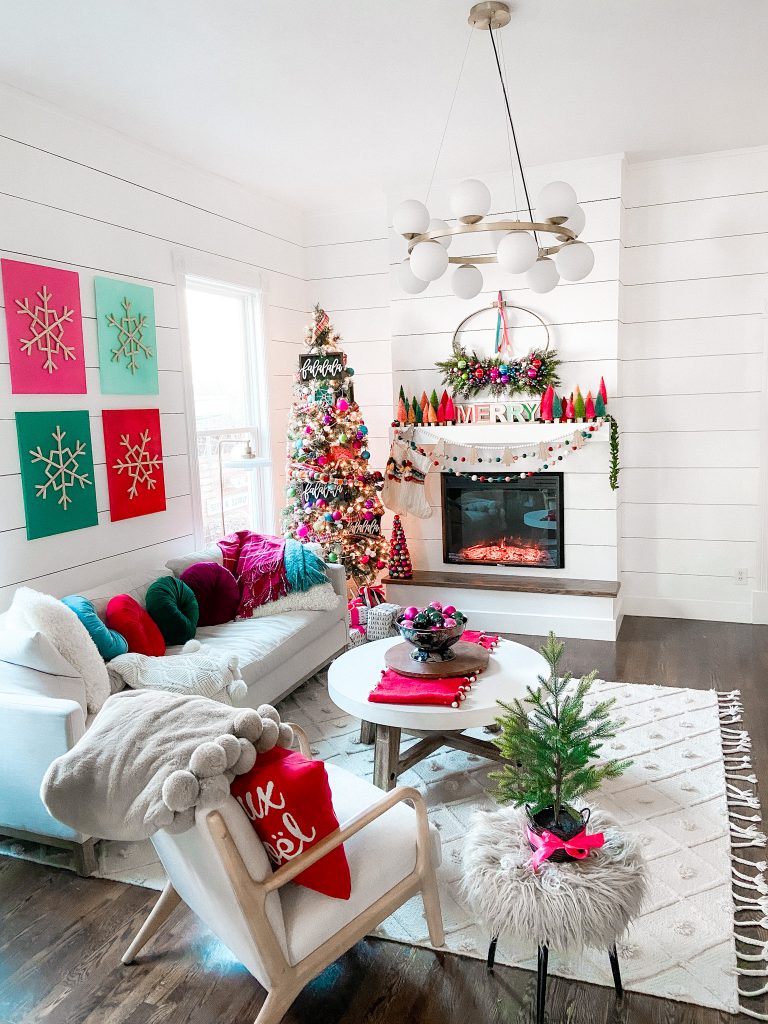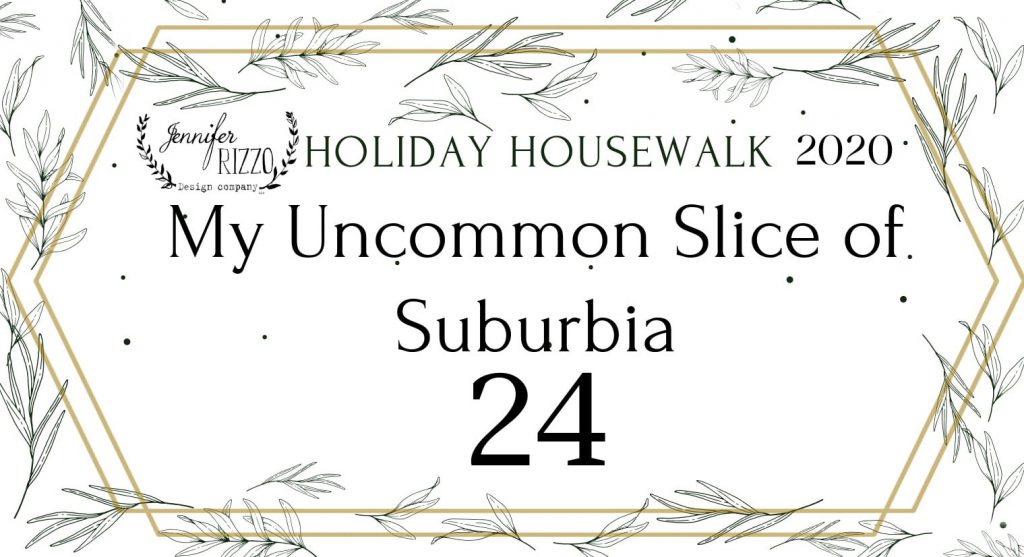 I'm going to switch it up this year and start the tour in the kitchen, why not, it is 2020!  This year I added simple touches of greenery for a clean simple look.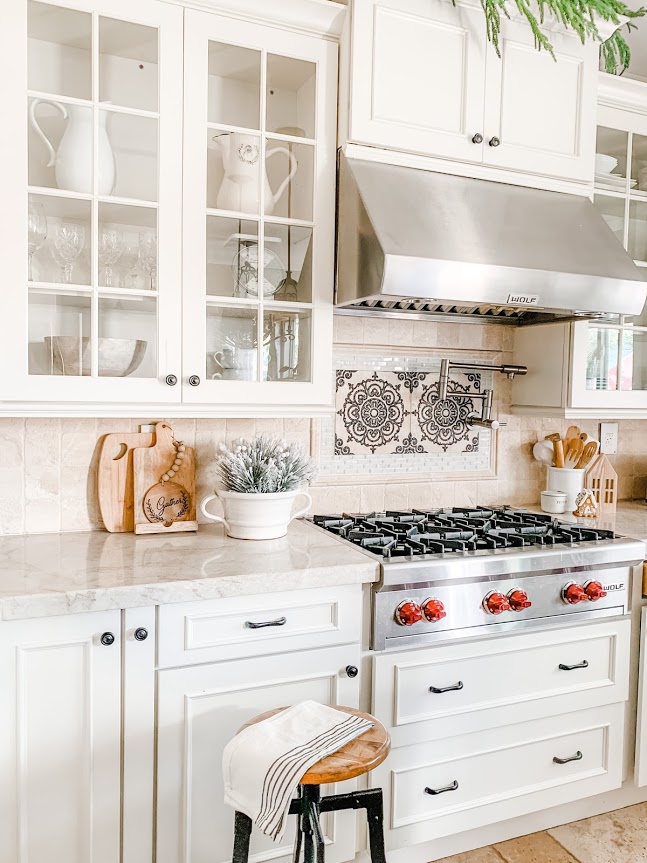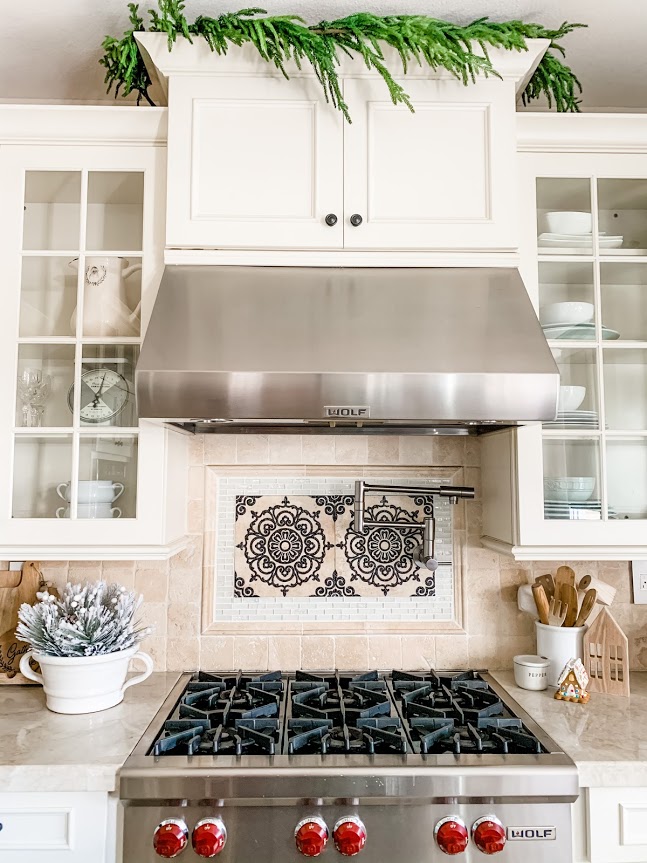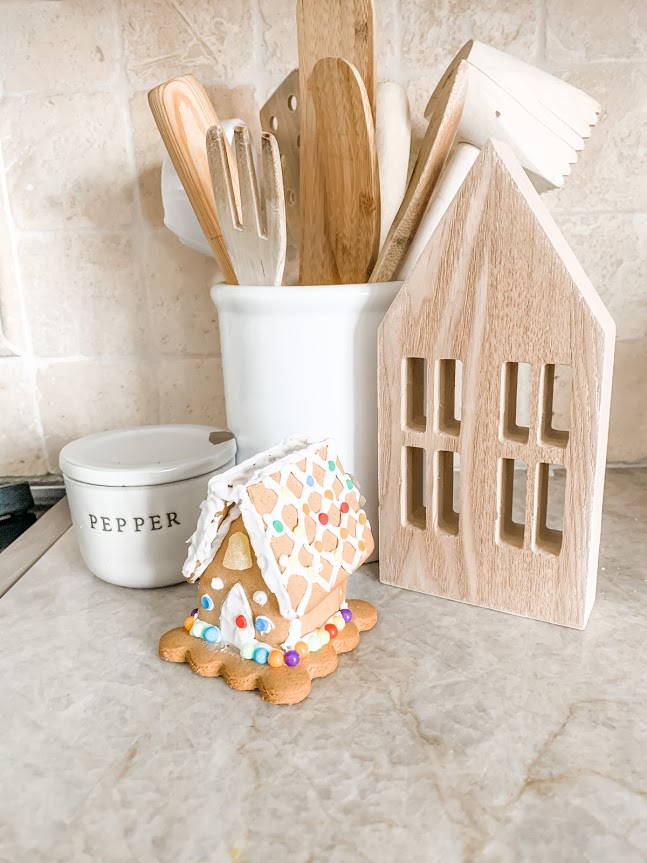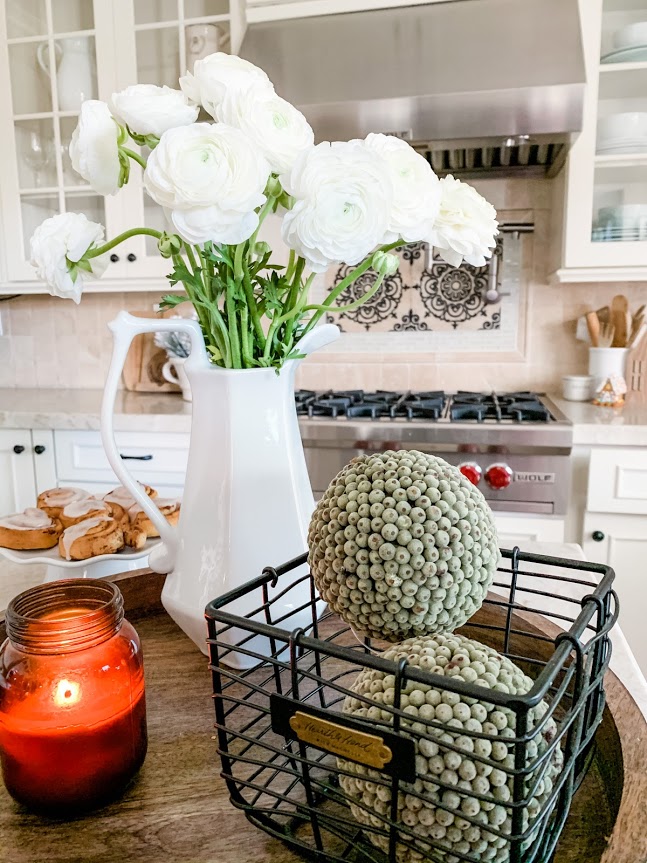 Off of our kitchen, we head into the great room.  Everything in our home, other than the bedrooms and bathrooms is open. I know it's not for everyone but we love it.  Let's just pretend that the big TV in the middle of the room doesn't exist.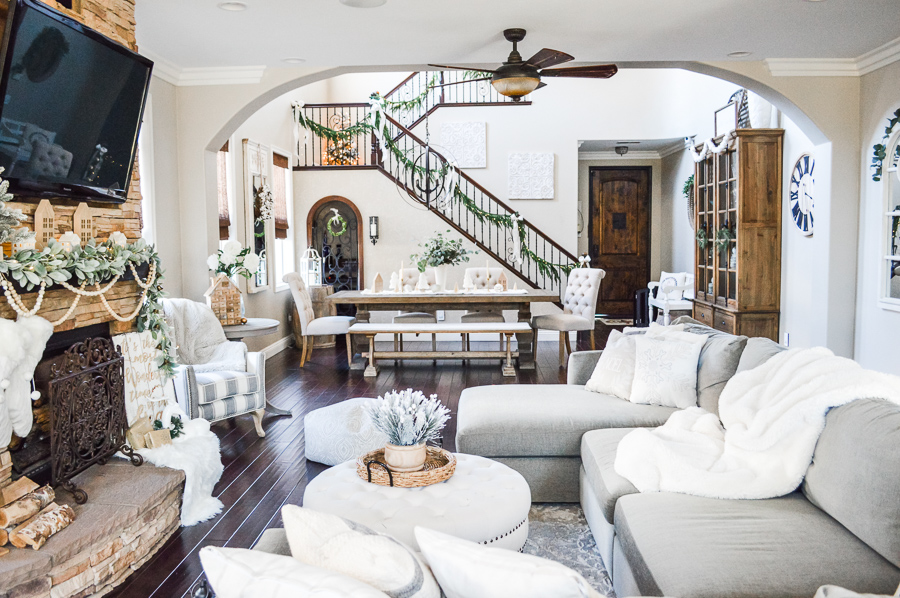 I didn't buy much this year other than the gold bells, wooden garland, and a new tree collar to freshen things up.
I'll list everything at the end of the post.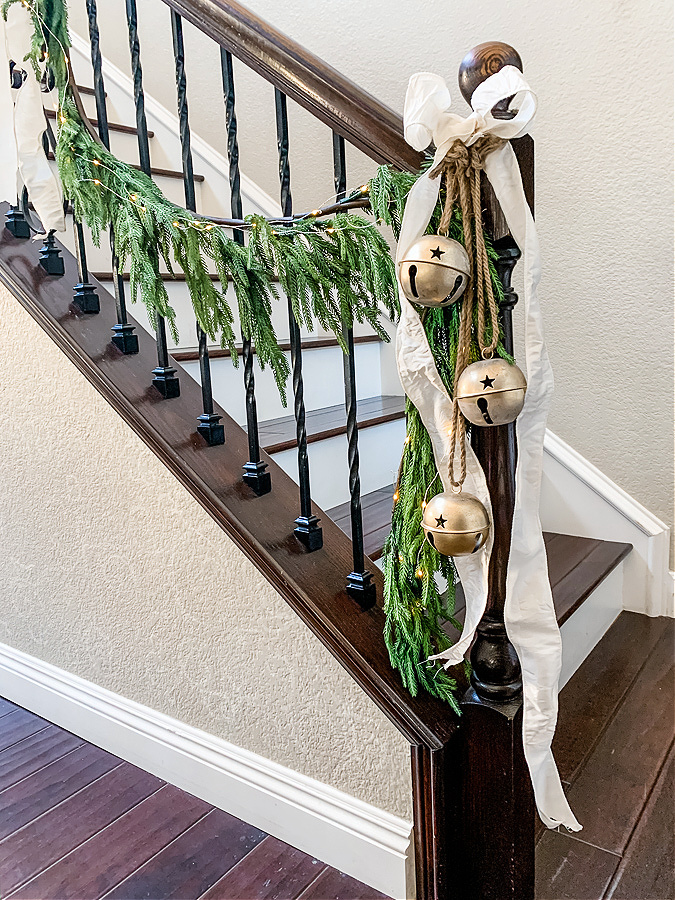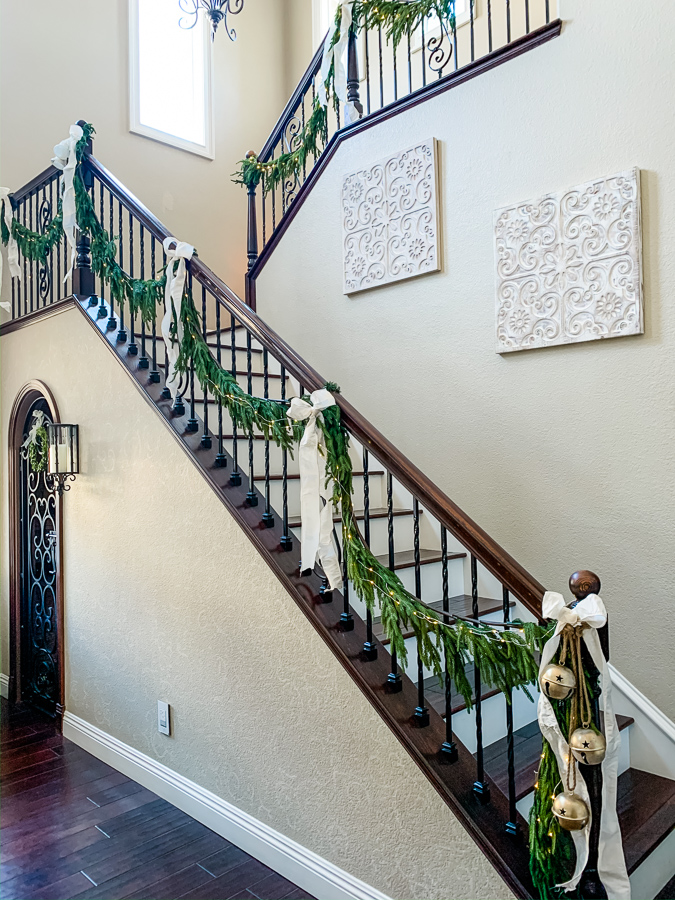 I purchased the garland last year after Christmas when it was on sale, it was definitely time for an upgrade, It is faux but incredibly realistic. I simply added some battery operated twinkle lights to give it a glow.  I checked the site and sadly they are all sold out this year.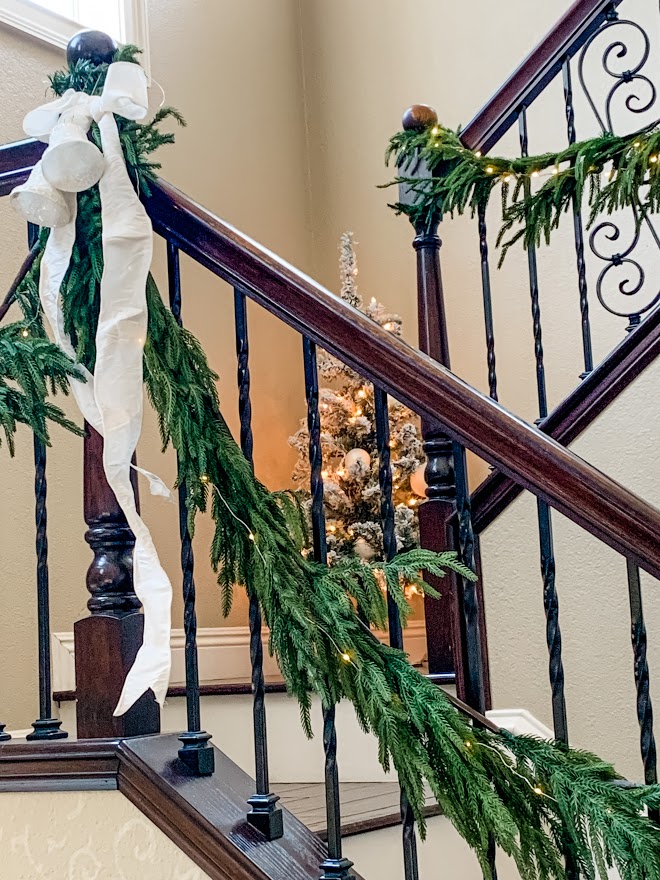 Fresh Eucalyptus placed in a large vase gives the table a winter feel.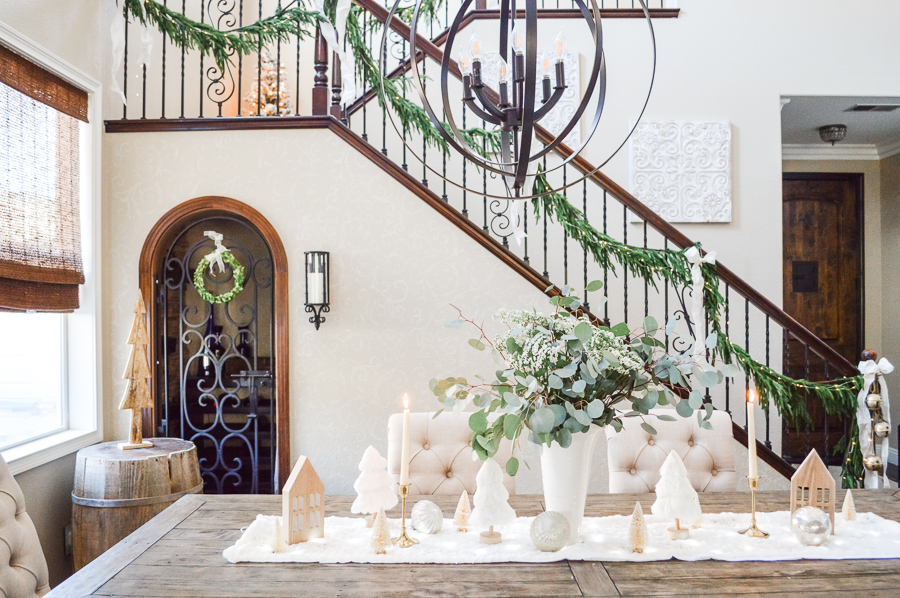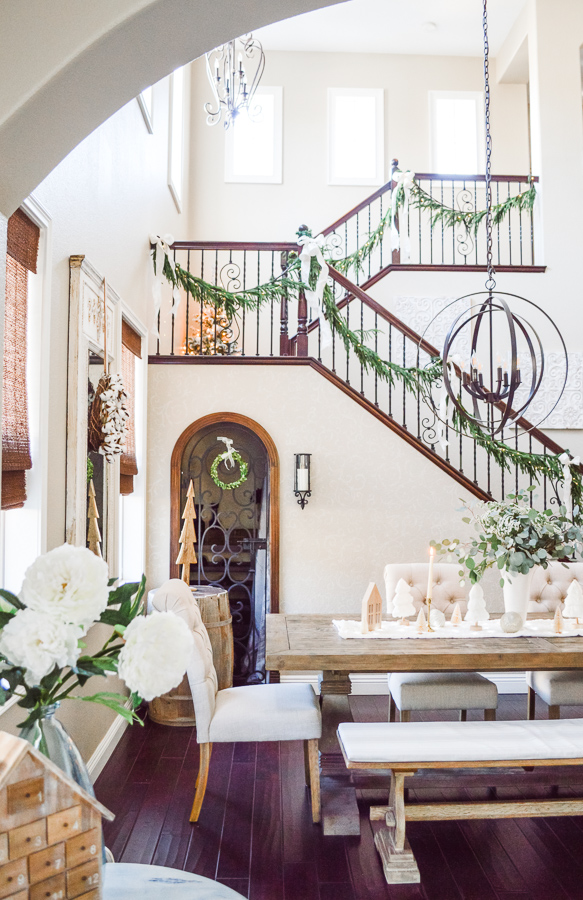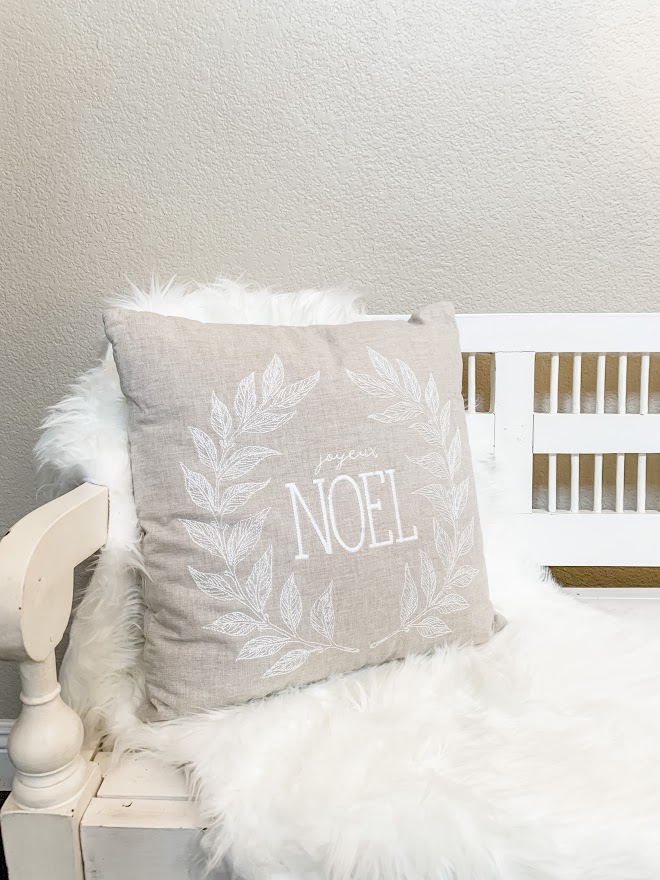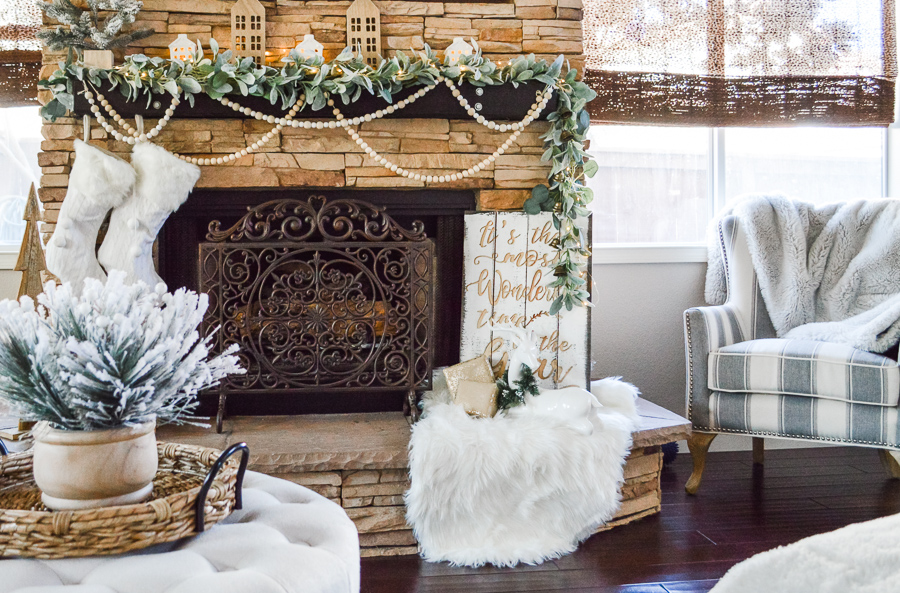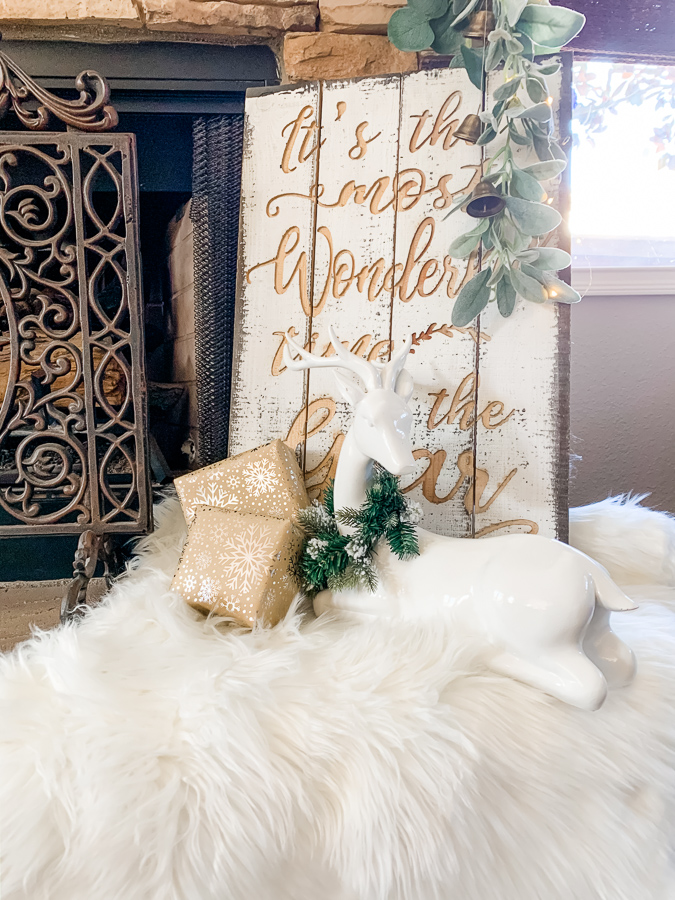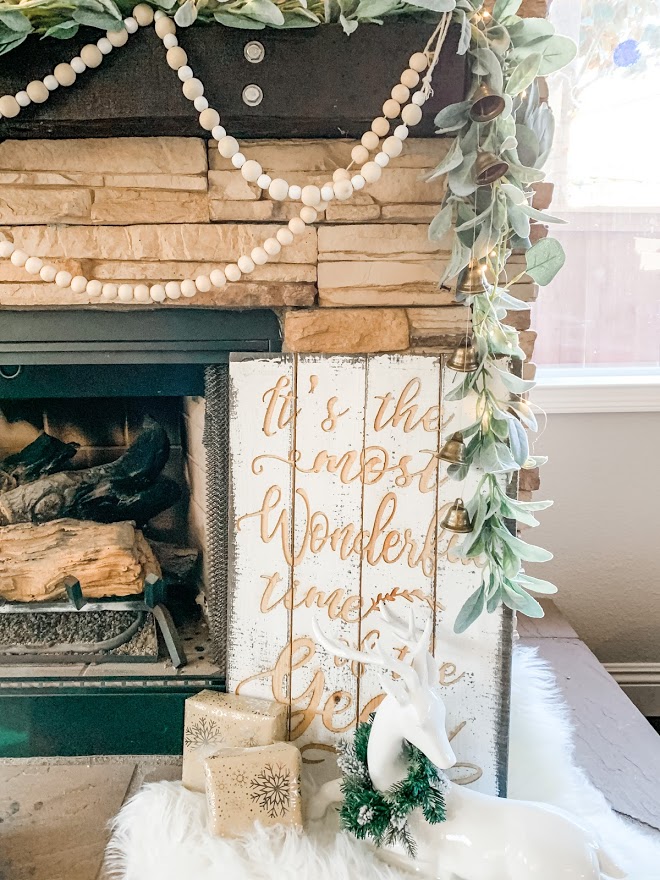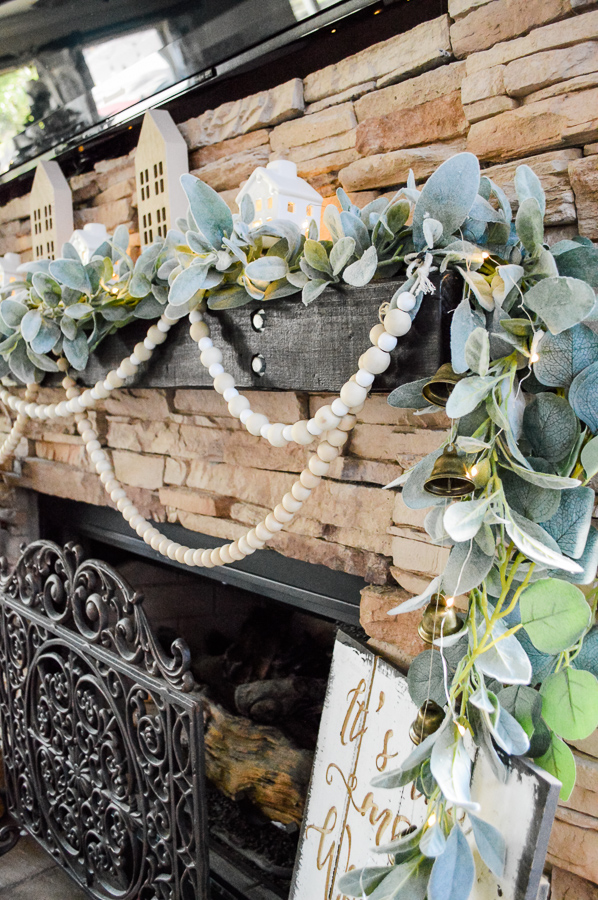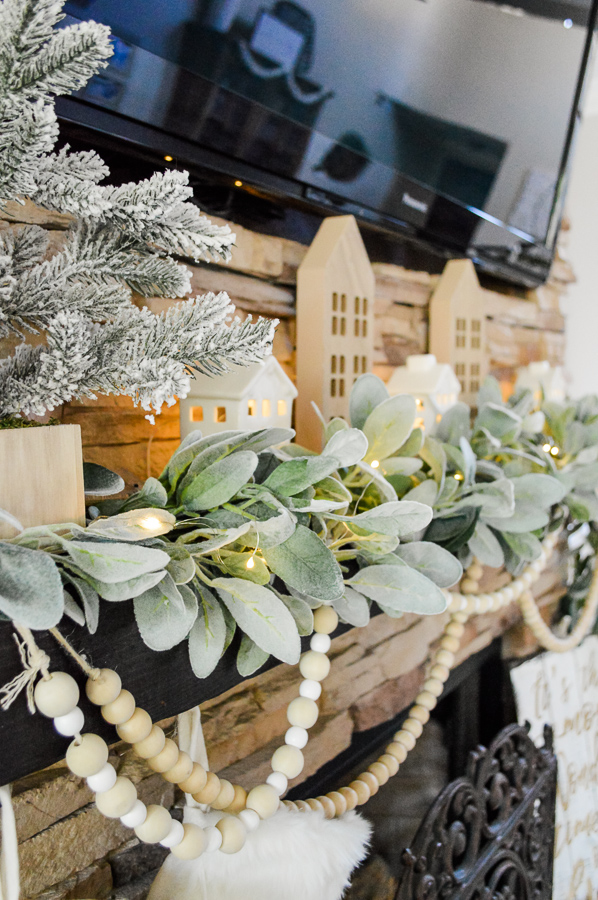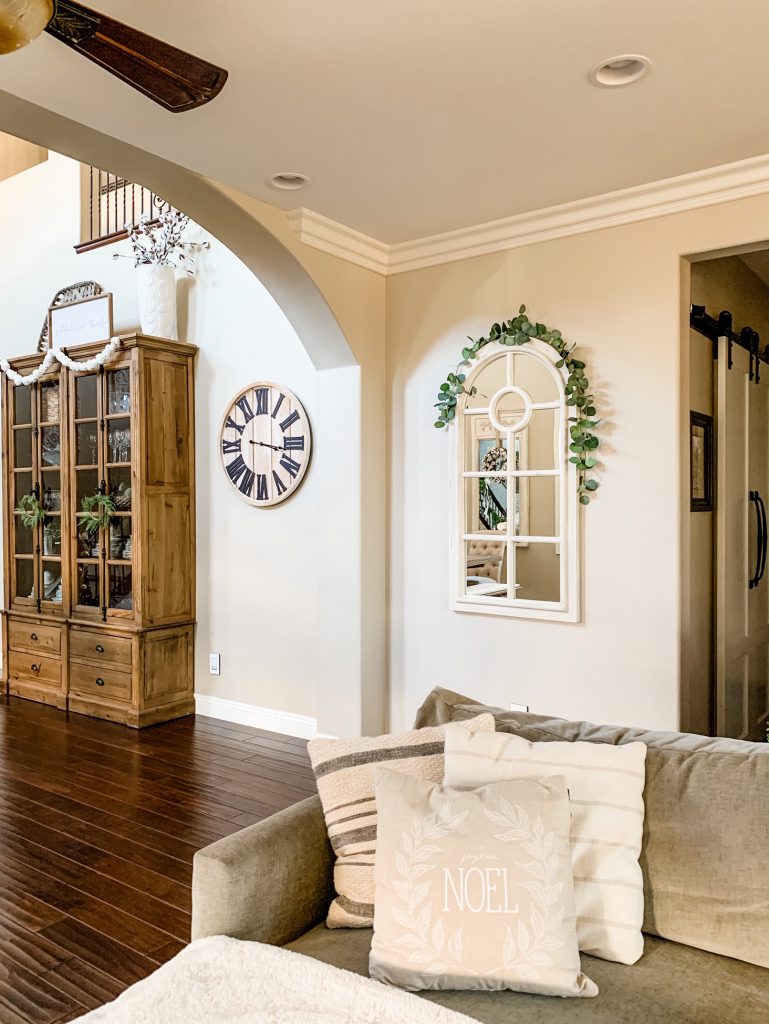 I don't normally decorate the bathrooms for Christmas but thought a touch of greenery would be fun.  If you missed the mini remodel, you can find it here.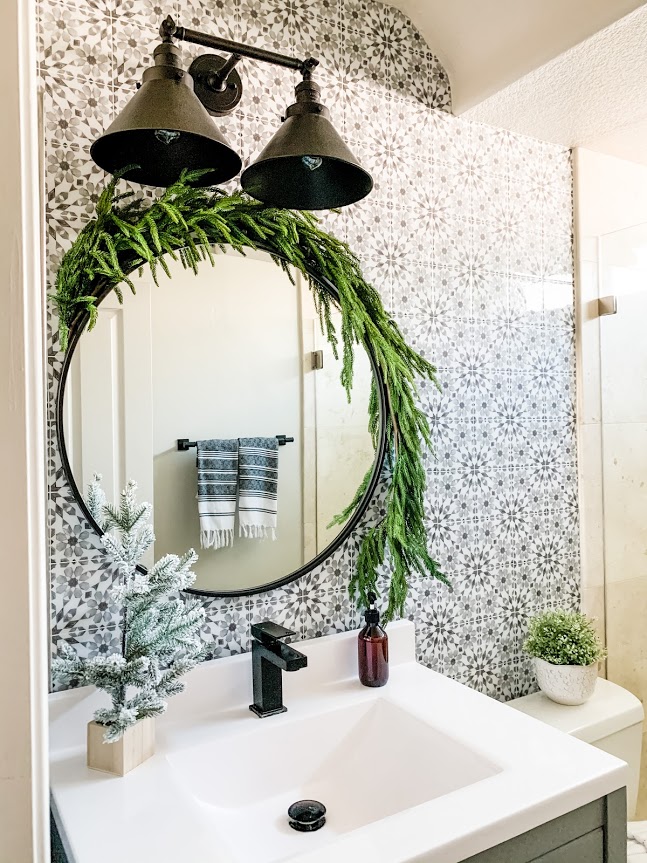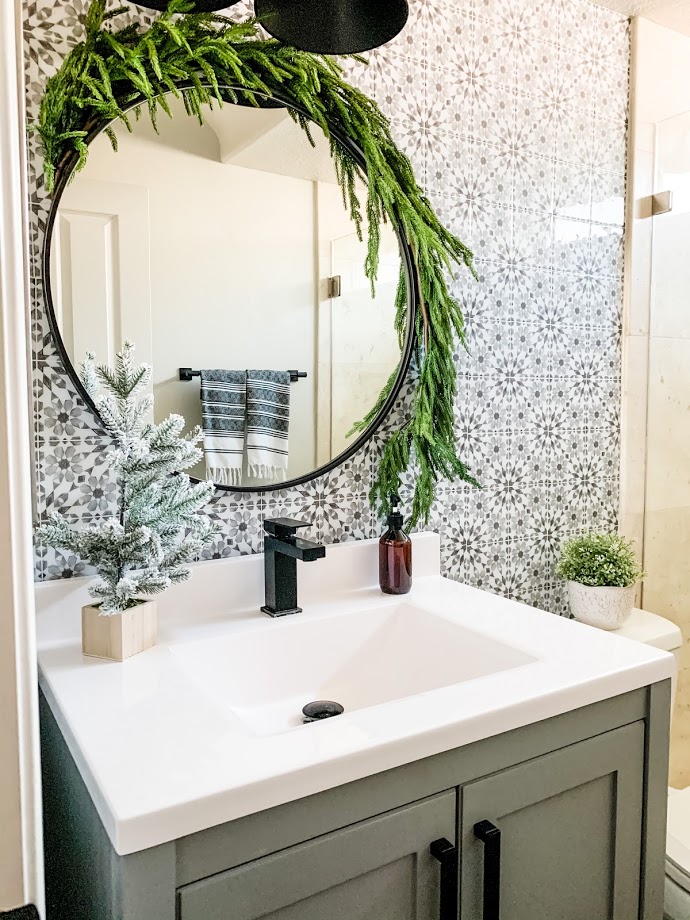 I love decorating the backyard fireplace with little touches of Christmas and this gorgeous wreath from Lynch Creek Farms is the perfect addition!  I fell in love with the King of the Forest wreath the minute I saw it!    Make sure to stop by tomorrow as I will be giving one of these wreaths away to one lucky reader!
Abby just sat and gave me the stink eye while I snapped some pictures, I'm surprised the other 2 didn't join in.
Up Next is Marci Schneider, you are going to love her beautiful home, she is the queen of making your home super cozy on a budget.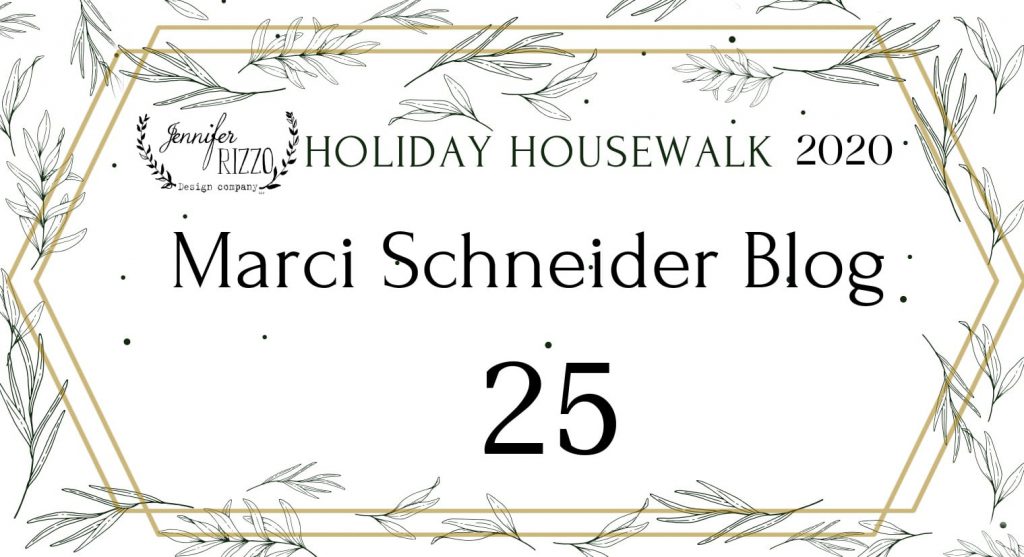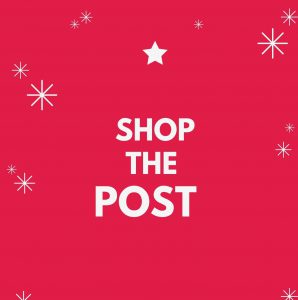 Soft and Thick Faux Sheepskin Fur

Wooden Beaded Garland