Welcome to Tuesday's Treasures, you sure have been busy working on all sorts of fun projects!
Can I just say how in love I am with Pink Postcards linen slipcovers.
 Check out these handmade bags from Twigg Studios, imagine the possibilities.
How to Nest For Less made these beautiful wine glasses.  I tried this about a year ago and it was a complete disaster so she is just going to have to make some for me 🙂
Domestic Imperfection used honey strips to  apply her beautiful backsplash, now I could do this!
Naptime Decorator gives us the big reveal of her kitchen, she did such a fabulous job!
How awesome is the little space that Our Fifth House carved out for her work space in her fabulous master bedroom!
I am in serious love with Simple Details succulent wreath.  I can't wait to give this a try, thanks Pam for the idea!
Thrifty Decor Mom's porch is so welcoming!
~Looking forward to this weeks links~
Please do not add links that promote giveaways or something you are trying to sell. Link up projects, something you have made, a craft a yummy recipe or inspiration you think others will enjoy.
2 links per person please that you have not linked up before.
Please play fair and link back in some fashion. Hint Hint….I only feature those that have a link back…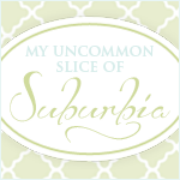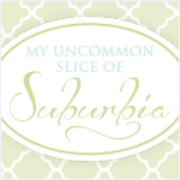 <div align="center"><a href="http://myuncommonsliceofsuburbia.com/" title="My Uncommon Slice of Suburbia"><img src="http://i775.photobucket.com/albums/yy39/Kristinsal/buttonnew-1.png" alt="My Uncommon Slice of Suburbia" style="border:none;" /></a></div>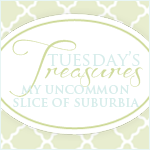 <div align="center"><a href="http://myuncommonsliceofsuburbia.com/" title="My Uncommon Slice of Suburbia"><img src="http://i775.photobucket.com/albums/yy39/Kristinsal/TuesdaysTreasuresbutton.png" alt="My Uncommon Slice of Suburbia" style="border:none;" /></a></div>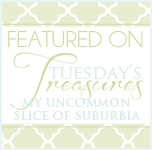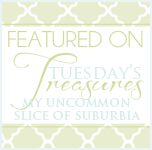 <div align="center"><a href="http://myuncommonsliceofsuburbia.com/" title="My Uncommon Slice of Suburbia"><img src="http://i775.photobucket.com/albums/yy39/Kristinsal/TuesdaysTreasuresFeaturedbutton.png" alt="My Uncommon Slice of Suburbia" style="border:none;" /></a></div>