~Hi Friends~
Happy Monday, hope everyone had a great weekend.  Baseball has started up for us so we were busy on the fields but I was able to sneak in a trip to Orange County to pick out countertops.  I have narrowed it down to 2 and we will make the final decision next weekend when we are back up their for a soccer tournament.  We are so close to being done, I can't tell you how happy that makes me!  What wonderful links last week, take a look at a few highlights.
Life on Virginia Street created this showstopper piece of art.  I love how she displayed it in her office.
Are you ready for an incredible staircase makeover? Head on over to Chapter 37 for all the details.
Twiggs Studio is sharing her recipe for a delicious  homemade puff pastry filled with lychee and rose curd.
Ready for an incredible kitchen makeover, even the kids were excited about it!
I love anything no sew, Trumatter has the tutorial for this adorable cusion cover.
WOWZA, how beautiful and delish does this ombre cake look from Mom's and Munchkins!
Home Heart and Hands shows you how to make this fabulous built in, perfect for organizing!
Hello Little Home has a free printable for this adorable conversation heart banner.
From the food to the setting this birthday bash looks fabulous over at Simply Suzanne's.

Can't wait to see what you have this week! Please do not add links that promote giveaways or something you are trying to sell. Link up projects, something you have made, a craft a yummy recipe or inspiration you think others will enjoy.
2 links per person please that you have not linked up before.
Please play fair and link back in some fashion. Hint Hint….I only feature those that have a link back…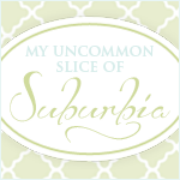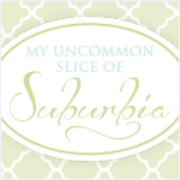 <div align="center"><a href="http://myuncommonsliceofsuburbia.com/" title="My Uncommon Slice of Suburbia"><img src="http://i775.photobucket.com/albums/yy39/Kristinsal/buttonnew-1.png" alt="My Uncommon Slice of Suburbia" style="border:none;" /></a></div>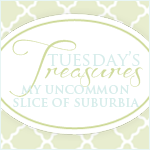 <div align="center"><a href="http://myuncommonsliceofsuburbia.com/" title="My Uncommon Slice of Suburbia"><img src="http://i775.photobucket.com/albums/yy39/Kristinsal/TuesdaysTreasuresbutton.png" alt="My Uncommon Slice of Suburbia" style="border:none;" /></a></div>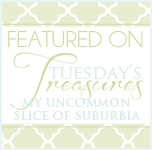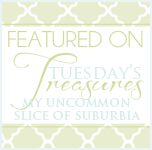 <div align="center"><a href="http://myuncommonsliceofsuburbia.com/" title="My Uncommon Slice of Suburbia"><img src="http://i775.photobucket.com/albums/yy39/Kristinsal/TuesdaysTreasuresFeaturedbutton.png" alt="My Uncommon Slice of Suburbia" style="border:none;" /></a