Welcome to Tuesday's Treasures! 
I am all finished painting the bathroom cabinets, I promise to snap some shots for you this week and post them.  I am just in the middle of cleaning the bomb that went off in the house.  Why is it when I am in project mode nothing else gets done. Ugggg…well, at least I will have pretty cabinets, right?
How fabulous is Johnny in a Dress master bedroom transformation.
Just Grand set her gorgeous table on the porch for book club night, these are some lucky lady friends! 
Just look at the view from the porch, I could sit here for hours!
Harbour Breeze beach cottage bedroom looks like a vacation getaway!
Take a look at the before, seriously amazing!
Can you belive Setting For Four made this beautiful sunburst mirror!
Confessions of a Plate Addict made the most adorable mini chalkboards!
Gold Shoe Girl made her own draperies for her kitchen and gives us a fabulous tutorial!
 ~Looking forward to this weeks links~
Please do not add links that promote giveaways or something you are trying to sell. Link up projects, something you have made, a craft a yummy recipe or inspiration you think others will enjoy.
2 links per person please that you have not linked up before.
Please play fair and link back in some fashion. Hint Hint….I only feature those that have a link back…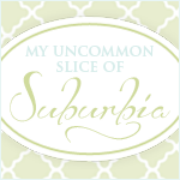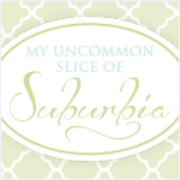 <div align="center"><a href="http://myuncommonsliceofsuburbia.com/" title="My Uncommon Slice of Suburbia"><img src="http://i775.photobucket.com/albums/yy39/Kristinsal/buttonnew-1.png" alt="My Uncommon Slice of Suburbia" style="border:none;" /></a></div>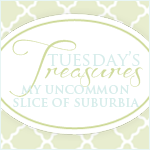 <div align="center"><a href="http://myuncommonsliceofsuburbia.com/" title="My Uncommon Slice of Suburbia"><img src="http://i775.photobucket.com/albums/yy39/Kristinsal/TuesdaysTreasuresbutton.png" alt="My Uncommon Slice of Suburbia" style="border:none;" /></a></div>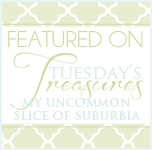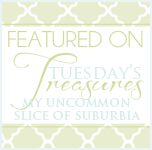 <div align="center"><a href="http://myuncommonsliceofsuburbia.com/" title="My Uncommon Slice of Suburbia"><img src="http://i775.photobucket.com/albums/yy39/Kristinsal/TuesdaysTreasuresFeaturedbutton.png" alt="My Uncommon Slice of Suburbia" style="border:none;" /></a></div>