~Happy Tuesday~
Hope everyone's week is off to a great start.  I was so impressed with last weeks links I had to share a few of them on Sunday.  If you missed the features just click here.
I am in love with the backdrop Live laugh Rowe made for her Spring Fling Party!
The Ordinary Beautiful took her dated foyer and gave it a warm, welcoming and  gorgeous makeover!
Trumatter turned this wine crate into a table, so beautiful and creative!
Have you seen this Pottery Barn inspired coral pillow that Sew Passionate made, I want one!
Head on over to Vixen Made to see how she turned her utility rug from this….
to this!
Mia Bella Vintage made over this dress form, isn't it adorable!
Can't wait to see this weeks links!
Please do not add links that promote giveaways or something you are trying to sell. Link up projects, something you have made, a craft a yummy recipe or inspiration you think others will enjoy.
2 links per person please that you have not linked up before.
Please play fair and link back in some fashion.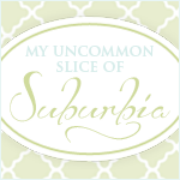 <div align="center"><a href="http://myuncommonsliceofsuburbia.com/" title="My Uncommon Slice of Suburbia"><img src="https://i775.photobucket.com/albums/yy39/Kristinsal/buttonnew-1.png" alt="My Uncommon Slice of Suburbia" style="border:none;" /></a></div>
<div align="center"><a href="http://myuncommonsliceofsuburbia.com/" title="My Uncommon Slice of Suburbia"><img src="https://i775.photobucket.com/albums/yy39/Kristinsal/TuesdaysTreasuresbutton.png" alt="My Uncommon Slice of Suburbia" style="border:none;" /></a></div>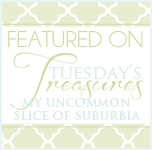 <div align="center"><a href="http://myuncommonsliceofsuburbia.com/" title="My Uncommon Slice of Suburbia"><img src="https://i775.photobucket.com/albums/yy39/Kristinsal/TuesdaysTreasuresFeaturedbutton.png" alt="My Uncommon Slice of Suburbia" style="border:none;" /></a></div>