~Hi Friends~
Hope you are having a great start to the week!  We are on week 3 with the kids being on vacation and I've only lost it once!  I'm pretty proud of myself.  All joking aside they have been really great and we have been keeping busy. My apologies for the link at last weeks party, something technical was going on and I couldn't fix it.  Because of the small amount of links I thought it would be fun to feature some bloggers from our Top 10 of 2013 as well.
Ever wondered how to make a faux grainsack tablecloth?  Sew Much Better With Age has a wonderful tutorial for you.
Down to Earth Style has a fabulous tutorial up on how to distress furniture.
Crafts a la mode shows you how to make this beautiful peppermint glycerin soap.
In no particular order here are some of my favorites from our top 10 party!
You can find my top 10 here.
Can't wait to see what you have to link up the week!
Please do not add links that promote giveaways or something you are trying to sell. Link up projects, something you have made, a craft a yummy recipe or inspiration you think others will enjoy.
2 links per person please that you have not linked up before.
Please play fair and link back in some fashion. Hint Hint….I only feature those that have a link back…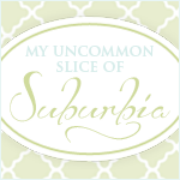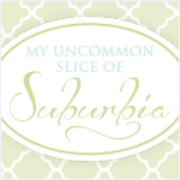 <div align="center"><a href="http://myuncommonsliceofsuburbia.com/" title="My Uncommon Slice of Suburbia"><img src="http://i775.photobucket.com/albums/yy39/Kristinsal/buttonnew-1.png" alt="My Uncommon Slice of Suburbia" style="border:none;" /></a></div>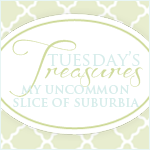 <div align="center"><a href="http://myuncommonsliceofsuburbia.com/" title="My Uncommon Slice of Suburbia"><img src="http://i775.photobucket.com/albums/yy39/Kristinsal/TuesdaysTreasuresbutton.png" alt="My Uncommon Slice of Suburbia" style="border:none;" /></a></div>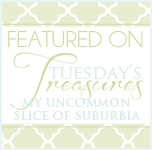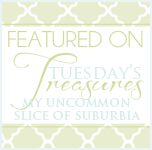 <div align="center"><a href="http://myuncommonsliceofsuburbia.com/" title="My Uncommon Slice of Suburbia"><img src="http://i775.photobucket.com/albums/yy39/Kristinsal/TuesdaysTreasuresFeaturedbutton.png" alt="My Uncommon Slice of Suburbia" style="border:none;" /></a