~Hi Friends~
Hope you had a wonderful weekend, I have a little secret. Today we are on our way to the mountains to meet up with some friends and bring in the New Year.  We are so excited to just chilax (as the kids would say). Playing games, watching movies, taking hikes, playing in the snow and just enjoying the great outdoors with some pretty amazing people that we are so blessed to have in our lives.  (Don't worry our house and dogs are being watched very closely)
I very much enjoyed going through all the links from two weeks ago and finding a few new blogs!
Orphans With Makeup transformed a old wooden table into a magical white winterland piece.
Satori Designs is sharing her hot chocolate bar.  This would be perfect for New Years Eve for the kids!
Love how Trumatter turned her kitchen towels into beautiful pillow cases.
Oh my, the boys saw these candy cane rice krispy treats from A Typical English Home on my computer screen and are dying for me to make some.
Home Happy Home is giving us a tour of her beautiful craft room/ office!
Love Grows Wild is sharing her winter wreath that could stay up all season!
Love Live Garden is spilling the beans and letting you know what olive oils are really extra virgin. You will be suprised to see which one is for real and the cheapest!
Angela is sharing how to get your home ready for guests.
Can't wait to see what you have to link up the week!
Please do not add links that promote giveaways or something you are trying to sell. Link up projects, something you have made, a craft a yummy recipe or inspiration you think others will enjoy.
2 links per person please that you have not linked up before.
Please play fair and link back in some fashion. Hint Hint….I only feature those that have a link back…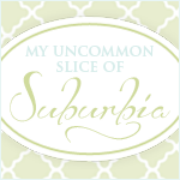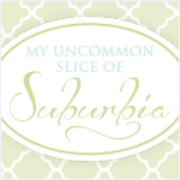 <div align="center"><a href="http://myuncommonsliceofsuburbia.com/" title="My Uncommon Slice of Suburbia"><img src="http://i775.photobucket.com/albums/yy39/Kristinsal/buttonnew-1.png" alt="My Uncommon Slice of Suburbia" style="border:none;" /></a></div>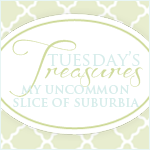 <div align="center"><a href="http://myuncommonsliceofsuburbia.com/" title="My Uncommon Slice of Suburbia"><img src="http://i775.photobucket.com/albums/yy39/Kristinsal/TuesdaysTreasuresbutton.png" alt="My Uncommon Slice of Suburbia" style="border:none;" /></a></div>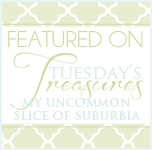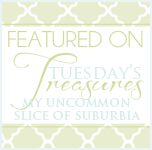 <div align="center"><a href="http://myuncommonsliceofsuburbia.com/" title="My Uncommon Slice of Suburbia"><img src="http://i775.photobucket.com/albums/yy39/Kristinsal/TuesdaysTreasuresFeaturedbutton.png" alt="My Uncommon Slice of Suburbia" style="border:none;" /></a