~Hi Friends~
Hope this Monday is treating you well.  The hubby and I have been busy painting rooms and working on some projects around the house, I can't wait to show you!  Thank you to everyone who linked up last week, the projects were truly remarkable!
Trapped Designer transformed a plain square room into a creative play room with a ton of personality.
Primitive and Proper updated her daughters room with a bed fit for a princess.
Apple Praline Baked French Toast, need I say more? Head on over to Love Grows Wild for the yummy recipe!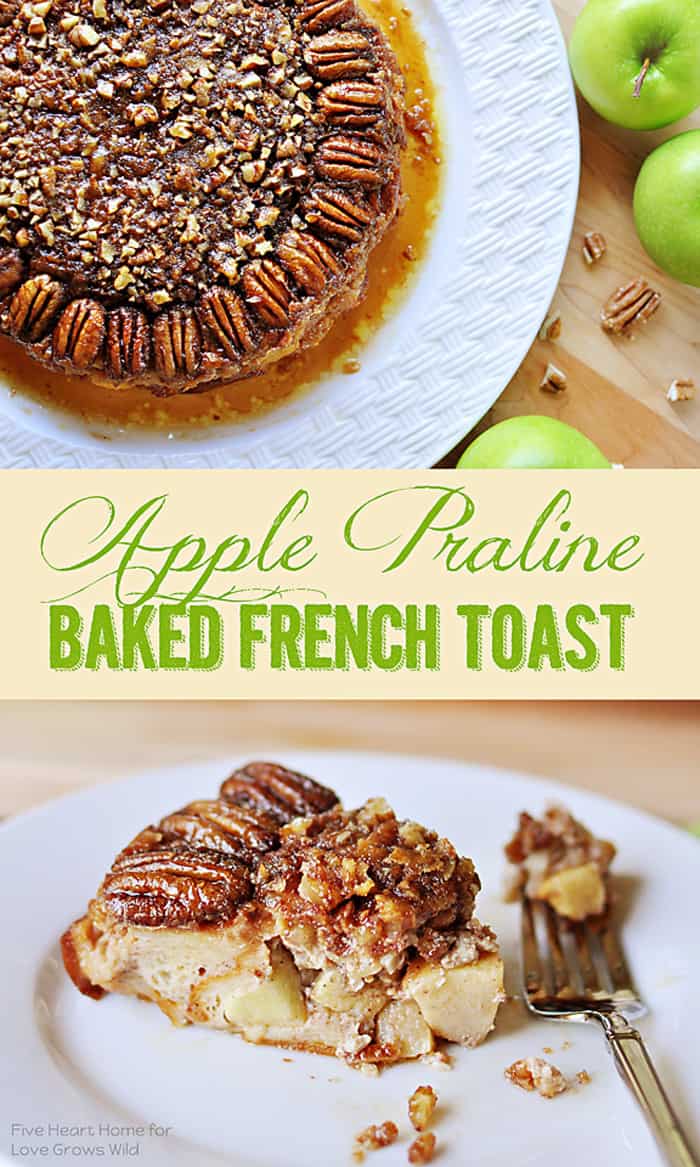 Little Sprinkles of Joy updated her powder room, I love that statement wall!
This gorgeous table runner from Decor Adventures is made out of Tape, paint and a curtain.
Common Ground is sharing her beautiful Fall Vignette.
Art is Beauty transformed this dresser into a gorgeous piece with a fabulous pop of color.
Can't wait to see what you have to link up the week!
Please do not add links that promote giveaways or something you are trying to sell. Link up projects, something you have made, a craft a yummy recipe or inspiration you think others will enjoy.
2 links per person please that you have not linked up before.
Please play fair and link back in some fashion. Hint Hint….I only feature those that have a link back…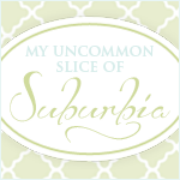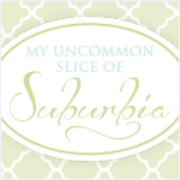 <div align="center"><a href="http://myuncommonsliceofsuburbia.com/" title="My Uncommon Slice of Suburbia"><img src="http://i775.photobucket.com/albums/yy39/Kristinsal/buttonnew-1.png" alt="My Uncommon Slice of Suburbia" style="border:none;" /></a></div>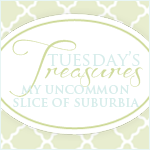 <div align="center"><a href="http://myuncommonsliceofsuburbia.com/" title="My Uncommon Slice of Suburbia"><img src="http://i775.photobucket.com/albums/yy39/Kristinsal/TuesdaysTreasuresbutton.png" alt="My Uncommon Slice of Suburbia" style="border:none;" /></a></div>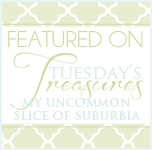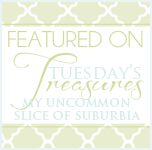 <div align="center"><a href="http://myuncommonsliceofsuburbia.com/" title="My Uncommon Slice of Suburbia"><img src="http://i775.photobucket.com/albums/yy39/Kristinsal/TuesdaysTreasuresFeaturedbutton.png" alt="My Uncommon Slice of Suburbia" style="border:none;" /></a