Are you ready for another fun and exciting round up from last week?
Adventures in Decorating updated her bookcase with  beautiful French scripted fabric.
Remodelando La Casa gives a window an easy update with giftwrap found at the dollar section at Target!
I can just about taste the yumminess of this fresh cream layered cake through my computer screen from Twigg Studio's.
Don't Disturb This Groove updated her son's bedroom with so many special touches. It is the perfect hangout for a eleven year old!
Visiting Heaven's Walk is like taking a mini vacation away from all the stresses in life!
Dixie Delights has me wanting to visit the south for this delicious Sweet Tea Bar
You know I'm a sucker for a beautiful splash of color on the back of a cabinet like this one from Home Made.
Can't wait to see what you have to link up the week!
Please do not add links that promote giveaways or something you are trying to sell. Link up projects, something you have made, a craft a yummy recipe or inspiration you think others will enjoy.
2 links per person please that you have not linked up before.
Please play fair and link back in some fashion. Hint Hint….I only feature those that have a link back…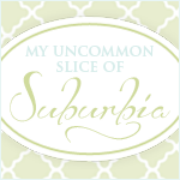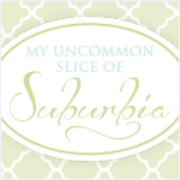 <div align="center"><a href="http://myuncommonsliceofsuburbia.com/" title="My Uncommon Slice of Suburbia"><img src="http://i775.photobucket.com/albums/yy39/Kristinsal/buttonnew-1.png" alt="My Uncommon Slice of Suburbia" style="border:none;" /></a></div>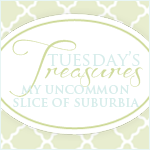 <div align="center"><a href="http://myuncommonsliceofsuburbia.com/" title="My Uncommon Slice of Suburbia"><img src="http://i775.photobucket.com/albums/yy39/Kristinsal/TuesdaysTreasuresbutton.png" alt="My Uncommon Slice of Suburbia" style="border:none;" /></a></div>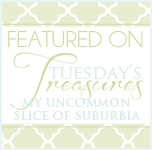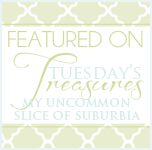 <div align="center"><a href="http://myuncommonsliceofsuburbia.com/" title="My Uncommon Slice of Suburbia"><img src="http://i775.photobucket.com/albums/yy39/Kristinsal/TuesdaysTreasuresFeaturedbutton.png" alt="My Uncommon Slice of Suburbia" style="border:none;" /></a