~Hi Friends~
I'm excited to share all the fabulous projects from around the blogosphere and I can't wait to see what you have been working on!
Is this not the cutest child's table ever from Daisy Mae Belle. Makes me want to sit and draw.
Can you say YUMMY! Your Home Based Mom has the recipe so you can make your own delicious brown butter pound cake!
Simply Suzanne's gave her catch all corner a fabulous makeover, wish mine looked that good!
There is just something about a red door that puts a big smile on my face!  Check out Scribbler Unfocused beautiful newly painted door.
The Blissful Bee shows us how to bake a stunning photography backdrop.
Sew Crafty Kids has a video tutorial up on how to make these cute Pom Pom Rings.  I don't think her kids could be any more cuter, seriously.
Stop by Glitter Glue and Paint to see how she made wine bottle wicks.
Top This Top That got creative and added additional lighting on her patio.
Such an amazing piece The Logbook found She put so much hard work into this gem and turned it into a beauty.
Junkin Junky gave this beautiful table a transformation with a beautiful soft color.  You have to see how creative she was when painting the legs.
Can't wait to see what you have to link up the week!
Please do not add links that promote giveaways or something you are trying to sell. Link up projects, something you have made, a craft a yummy recipe or inspiration you think others will enjoy.
2 links per person please that you have not linked up before.
Please play fair and link back in some fashion. Hint Hint….I only feature those that have a link back…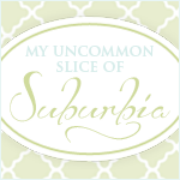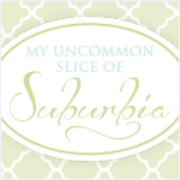 <div align="center"><a href="http://myuncommonsliceofsuburbia.com/" title="My Uncommon Slice of Suburbia"><img src="http://i775.photobucket.com/albums/yy39/Kristinsal/buttonnew-1.png" alt="My Uncommon Slice of Suburbia" style="border:none;" /></a></div>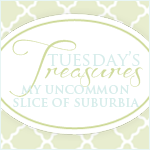 <div align="center"><a href="http://myuncommonsliceofsuburbia.com/" title="My Uncommon Slice of Suburbia"><img src="http://i775.photobucket.com/albums/yy39/Kristinsal/TuesdaysTreasuresbutton.png" alt="My Uncommon Slice of Suburbia" style="border:none;" /></a></div>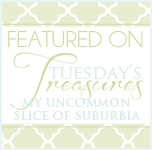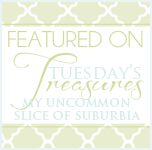 <div align="center"><a href="http://myuncommonsliceofsuburbia.com/" title="My Uncommon Slice of Suburbia"><img src="http://i775.photobucket.com/albums/yy39/Kristinsal/TuesdaysTreasuresFeaturedbutton.png" alt="My Uncommon Slice of Suburbia" style="border:none;" /></a