Today is our last day in IL, I'm going to be sad to say goodbye. We have had such an amazing time spending time with family and friends and the kids have been slightly spoiled by Grandma and Grandpa.  The weather has been crazy, we have seen snow, thunder, rain and sun all in a week, keeps you on your toes on how to dress for the day.  I will post some pictures when we get back home.
~In my down time I have enjoyed catching up on all of last weeks links~
Remodelando La Casa has once again outdone herself by building these gorgeous bookshelves around the fireplace!
Life on Virginia Street added board and batten to the wall, it add's so much character to the room.
The color, the knobs, the wood…everything about this transformation it is just fabulous, go check it out at Primitive and Proper.
Ever wondered how to make those pretty tabs on your Facebook page? Happy Healthy and Domestic shows you how!
Homework gave her hutch a modern and fresh makeover!
Ready to make a super big chalkboard? Look no further, Unexpected Elegance shows you how!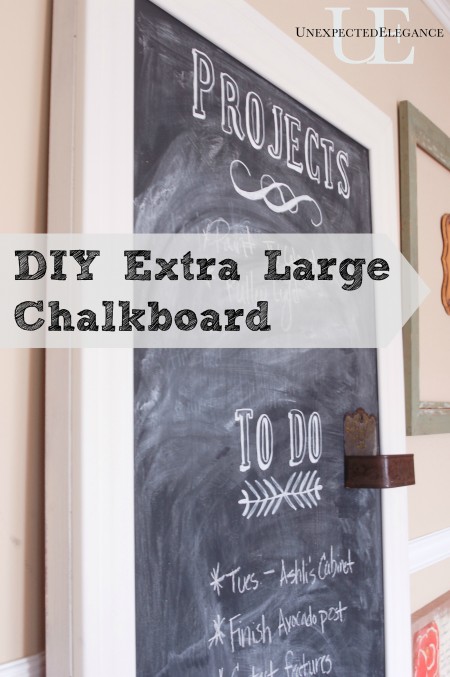 Crystelle Boutique covered the wall with beautiful vintage sheet music giving the room such an amazing impact.
The Chronicles of Home reuphstered this sofa in a soft and cozy velvet, just gorgeous!
Can't wait to see what you have to link up the week!
Please do not add links that promote giveaways or something you are trying to sell. Link up projects, something you have made, a craft a yummy recipe or inspiration you think others will enjoy.
2 links per person please that you have not linked up before.
Please play fair and link back in some fashion. Hint Hint….I only feature those that have a link back…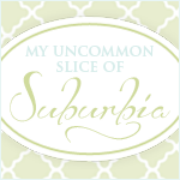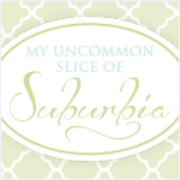 <div align="center"><a href="http://myuncommonsliceofsuburbia.com/" title="My Uncommon Slice of Suburbia"><img src="http://i775.photobucket.com/albums/yy39/Kristinsal/buttonnew-1.png" alt="My Uncommon Slice of Suburbia" style="border:none;" /></a></div>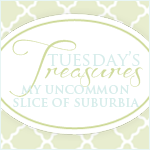 <div align="center"><a href="http://myuncommonsliceofsuburbia.com/" title="My Uncommon Slice of Suburbia"><img src="http://i775.photobucket.com/albums/yy39/Kristinsal/TuesdaysTreasuresbutton.png" alt="My Uncommon Slice of Suburbia" style="border:none;" /></a></div>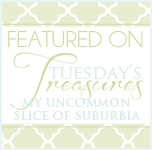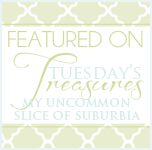 <div align="center"><a href="http://myuncommonsliceofsuburbia.com/" title="My Uncommon Slice of Suburbia"><img src="http://i775.photobucket.com/albums/yy39/Kristinsal/TuesdaysTreasuresFeaturedbutton.png" alt="My Uncommon Slice of Suburbia" style="border:none;" /></a