~Hi Friends~
Hope the week is off to a great start!  The boys have school off this whole week and my mother in law is visiting so I have lots of fun things planned for us.  I loved last weeks links, here are just a few fabulous features!
The Golden Sycamore revealed her gender neutral nursery she had been working so hard on.
We are all going to be on the lookout for a  ugly lazy susan after seeing what Bliss Ranch did to hers.
I'm seriously loving this cheerful makeover on this jewelry armoire from  House of Fab For Less.
Isn't Carissa Miss Board and Batten beautiful, head on over for the tutorial!
You have to see what Shine Your Light used to make her curtain rods, seriously, this is iginous and will save you a ton of money!
I love the touches of black Twelve Oaks Manor added to her amazing front porch.
Emily gave this desk the most beatufiul makeover.
Adventures in Decorating has done it again, check out her fabulous spring touches in the dinning room.
Can't wait to see what you have to link up the week!
Please do not add links that promote giveaways or something you are trying to sell. Link up projects, something you have made, a craft a yummy recipe or inspiration you think others will enjoy.
2 links per person please that you have not linked up before.
Please play fair and link back in some fashion. Hint Hint….I only feature those that have a link back…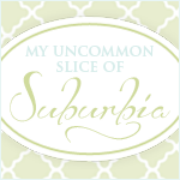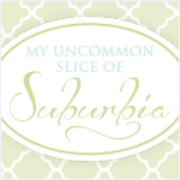 <div align="center"><a href="http://myuncommonsliceofsuburbia.com/" title="My Uncommon Slice of Suburbia"><img src="http://i775.photobucket.com/albums/yy39/Kristinsal/buttonnew-1.png" alt="My Uncommon Slice of Suburbia" style="border:none;" /></a></div>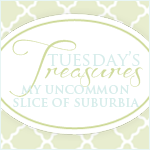 <div align="center"><a href="http://myuncommonsliceofsuburbia.com/" title="My Uncommon Slice of Suburbia"><img src="http://i775.photobucket.com/albums/yy39/Kristinsal/TuesdaysTreasuresbutton.png" alt="My Uncommon Slice of Suburbia" style="border:none;" /></a></div>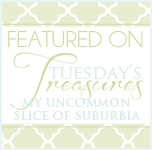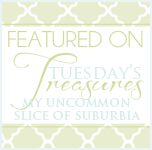 <div align="center"><a href="http://myuncommonsliceofsuburbia.com/" title="My Uncommon Slice of Suburbia"><img src="http://i775.photobucket.com/albums/yy39/Kristinsal/TuesdaysTreasuresFeaturedbutton.png" alt="My Uncommon Slice of Suburbia" style="border:none;" /></a