~Hi Friends~
It feels great to back in the swing of things around here! Grayson has an appointment on Wednesday with his cardiologist   We will have another echo and blood work so we can see how well he is progressing, keep your fingers crossed for us!
~Take a look at the features from two weeks ago~
 To help beat the winter blues Town and Country brought in lots of fresh flowers into her gorgeous dinning room.
Have you seen Soul Style's gorgeous bathroom remodel.
Fox Hollow Cottage organized her linen closet and gave it a fabulous and colorful makeover.
 Daisy Mae Belle gave her wardrobe a makeover using Paris Gray and Old White.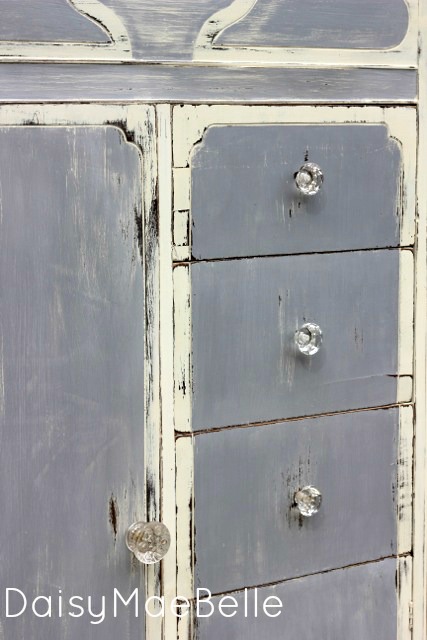 Eclectically Vintage gave her mid century chair a fabulous furry friend, isn't it pretty!
Hello Lovely made some subtle yet beautiful changes in her home.
With missing last Tuesday, I'm excited to see what you have been up to for the past few weeks.
Can't wait to see what you have to link up the week!
Please do not add links that promote giveaways or something you are trying to sell. Link up projects, something you have made, a craft a yummy recipe or inspiration you think others will enjoy.
2 links per person please that you have not linked up before.
Please play fair and link back in some fashion. Hint Hint….I only feature those that have a link back…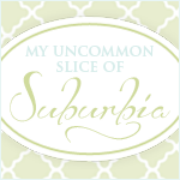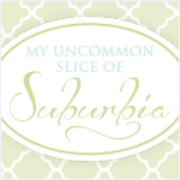 <div align="center"><a href="http://myuncommonsliceofsuburbia.com/" title="My Uncommon Slice of Suburbia"><img src="http://i775.photobucket.com/albums/yy39/Kristinsal/buttonnew-1.png" alt="My Uncommon Slice of Suburbia" style="border:none;" /></a></div>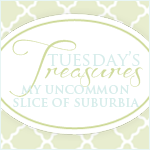 <div align="center"><a href="http://myuncommonsliceofsuburbia.com/" title="My Uncommon Slice of Suburbia"><img src="http://i775.photobucket.com/albums/yy39/Kristinsal/TuesdaysTreasuresbutton.png" alt="My Uncommon Slice of Suburbia" style="border:none;" /></a></div>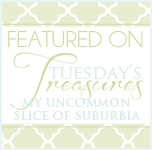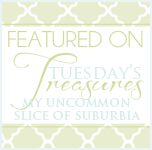 <div align="center"><a href="http://myuncommonsliceofsuburbia.com/" title="My Uncommon Slice of Suburbia"><img src="http://i775.photobucket.com/albums/yy39/Kristinsal/TuesdaysTreasuresFeaturedbutton.png" alt="My Uncommon Slice of Suburbia" style="border:none;" /></a