~Hi Friends~
I had such a hard time picking just a few from last week's party.  You have some serious talent, I just about had to close my eyes and point to the screen to make it fair.
Tidbits shares all the details of how her and her husband created this gorgeous room for their daughters, yes they made those fabulous beds!
Top this Top That shares her gorgeous Breakfast area transformation, I want to have coffee here, heck I want to have every meal here!
I am only giving you a peak at Redhead Can Decorate master bedroom because you have to check out the whole room, it is stunning!
You have to stop by Involving Home to see  the fabulous details of her gorgeous kitchen makeover.
Can you believe these gorgeous boxes started off as shoe boxes.  Check out Living and Learning with Luisa for the tutorial.
By only painting the walls/trim and removing wallpaper Sweet Chaos completely changed the whole look of her kitchen, not kidding!
I'm seriously heading out to the store and buying some oreos so I can make some of these delicious tux and pearl cookies from I Gotta Create.
All that Brings Joy shows us how to open up your cabinets.
Number Fifty Three gives us a peak into her beautiful home and shares all her paint colors.
I also wanted to announce the Spring Blog Hop and Linky Party coming soon!  I am super excited to be joining this fabulous group of bloggers, we will close out the party with a HUGE  linky party where you get to join in! SUPER FUN!
Can't wait to see what you have to link up the week!
Please do not add links that promote giveaways or something you are trying to sell. Link up projects, something you have made, a craft a yummy recipe or inspiration you think others will enjoy.
2 links per person please that you have not linked up before.
Please play fair and link back in some fashion. Hint Hint….I only feature those that have a link back…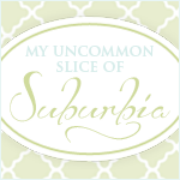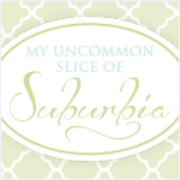 <div align="center"><a href="http://myuncommonsliceofsuburbia.com/" title="My Uncommon Slice of Suburbia"><img src="http://i775.photobucket.com/albums/yy39/Kristinsal/buttonnew-1.png" alt="My Uncommon Slice of Suburbia" style="border:none;" /></a></div>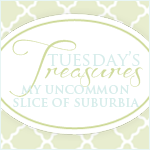 <div align="center"><a href="http://myuncommonsliceofsuburbia.com/" title="My Uncommon Slice of Suburbia"><img src="http://i775.photobucket.com/albums/yy39/Kristinsal/TuesdaysTreasuresbutton.png" alt="My Uncommon Slice of Suburbia" style="border:none;" /></a></div>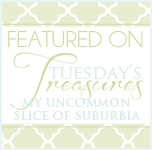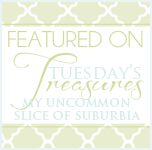 <div align="center"><a href="http://myuncommonsliceofsuburbia.com/" title="My Uncommon Slice of Suburbia"><img src="http://i775.photobucket.com/albums/yy39/Kristinsal/TuesdaysTreasuresFeaturedbutton.png" alt="My Uncommon Slice of Suburbia" style="border:none;" /></a