~Hi Friends~
Hope everyone had a wonderful weekend and is safe!  I promise to give you an update on the house later this week, so much is going on!
Head on over to see the before of this gorgeous master bedroom makeover from Dixie Delights.
I love everything about this vingette from City Farmhouse, hop on over to see how she made the sign.
You won't believe what this mirror looked like before Lilikoi Joy gave it a HUGE and fabulous makeover!
Loving the industrial look from The Golden Sycamore, the bench, pillow and basket all look so beautiful together.
The Enduring Home transformed her media console but really I just love everything about the whole room!
Number Fifty-Three shows us how to mix pattern and texture, just gorgeous!
Would you believe that box is an old jewelry box brought to life by Kammy's Korner!
Check out Adventures in Decorating Valentines kitchen.
Pretty Fabulous links I have to say!
Can't wait to see what you have to link up the week!
Please do not add links that promote giveaways or something you are trying to sell. Link up projects, something you have made, a craft a yummy recipe or inspiration you think others will enjoy.
2 links per person please that you have not linked up before.
Please play fair and link back in some fashion. Hint Hint….I only feature those that have a link back…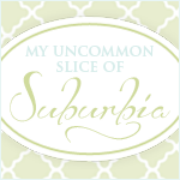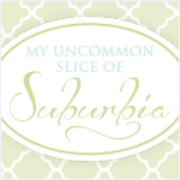 <div align="center"><a href="http://myuncommonsliceofsuburbia.com/" title="My Uncommon Slice of Suburbia"><img src="http://i775.photobucket.com/albums/yy39/Kristinsal/buttonnew-1.png" alt="My Uncommon Slice of Suburbia" style="border:none;" /></a></div>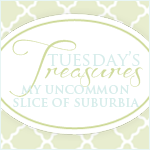 <div align="center"><a href="http://myuncommonsliceofsuburbia.com/" title="My Uncommon Slice of Suburbia"><img src="http://i775.photobucket.com/albums/yy39/Kristinsal/TuesdaysTreasuresbutton.png" alt="My Uncommon Slice of Suburbia" style="border:none;" /></a></div>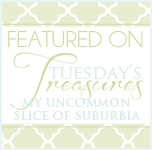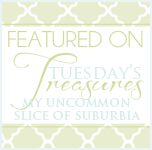 <div align="center"><a href="http://myuncommonsliceofsuburbia.com/" title="My Uncommon Slice of Suburbia"><img src="http://i775.photobucket.com/albums/yy39/Kristinsal/TuesdaysTreasuresFeaturedbutton.png" alt="My Uncommon Slice of Suburbia" style="border:none;" /></a