~Happy Tuesday~
Just A quick update on life since so many of you have been so kind to ask, thank you! The insurance adjuster paid us a visit on Friday, he was amazed by all the damage in the kitchen, from the sounds of it everything will need to be gutted. His report will be sent in for review this week so we are patiently  waiting….I will let you know when we hear back.  Sophie is still so depressed about Bailey, we as a family are healing, we just miss her so much!  On a much brighter note, all the boys went to school today for the first time in a week (out all last week with the flu) so mama got some work done and lots of it!!!!!  Life is good and we are blessed, these are just little bumps in our lives.
So enough of all that….. I know I have said it before more then once but a I am going to say it again. I honestly had to pull myself away from featuring every single link, you guys are amazing! Check it out!
You won't believe what these gorgeous chairs looked like before Sweet Chaos got her hands on them!
Salvage Dior's hubby wanted a masculine feel in the family room, look what they made using a old gate, brilliant and beautiful!
The Chronicles of Home made this gorgeous faux capiz shell pendant, head on over for the tutorial!
JoJo and Eloise show you how to make these heart shape sugar cubes!  Super simple and oh so yummy!  She also kicked off the fourteen days of crafting love today, stop in to see the most adorable apron tutorial, it could be yours to keep!
If I had a white mantel this is exactly how it would look like for Valentines Day.  Remodelando La Casa sure has skills!
Inspired Living shares her home tour, I am packing my bags and moving in!
From My Front Porch To Yours transformed her laundry room.  I love every inch from the chandi to the faux beams, it is gorgeous!
City Farmhouse shows us how to make this easy pleated slipcover.  I have two cubes waiting for a makeover, I can't wait to bring my sewing machine out!
Loving Something Nice and Pretty little niche in her kitchen!
Right? Told you it was hard to pick just a few!
Can't wait to see what you have to link up the week!
Please do not add links that promote giveaways or something you are trying to sell. Link up projects, something you have made, a craft a yummy recipe or inspiration you think others will enjoy.
2 links per person please that you have not linked up before.
Please play fair and link back in some fashion. Hint Hint….I only feature those that have a link back…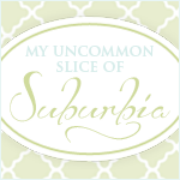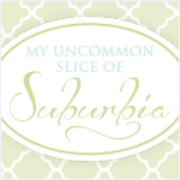 <div align="center"><a href="http://myuncommonsliceofsuburbia.com/" title="My Uncommon Slice of Suburbia"><img src="http://i775.photobucket.com/albums/yy39/Kristinsal/buttonnew-1.png" alt="My Uncommon Slice of Suburbia" style="border:none;" /></a></div>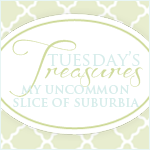 <div align="center"><a href="http://myuncommonsliceofsuburbia.com/" title="My Uncommon Slice of Suburbia"><img src="http://i775.photobucket.com/albums/yy39/Kristinsal/TuesdaysTreasuresbutton.png" alt="My Uncommon Slice of Suburbia" style="border:none;" /></a></div>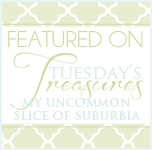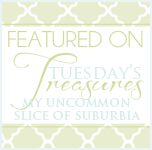 <div align="center"><a href="http://myuncommonsliceofsuburbia.com/" title="My Uncommon Slice of Suburbia"><img src="http://i775.photobucket.com/albums/yy39/Kristinsal/TuesdaysTreasuresFeaturedbutton.png" alt="My Uncommon Slice of Suburbia" style="border:none;" /></a