~Hi Friends~
Hope your week is off to a great start!  In between all the running around I have been cleaning out the "guest room" which somehow turned into a catch all room.  Don't you hate that!  We have my mother in law coming soon so it gave me a good excuse.  Sometimes I wonder where all the STUFF comes from anyway, oh it drives me bonkers.
Onto the party, fabulous links last week!
Can you believe Taryn from Design Dining and Diapers made these dish towels.  She has the tutorial on her blog for you!
How to Nest For Less gives us the complete kitchen makeover, it is stunning!
Check out The Creek Lines House Paper floors, how cool!
Simply Klassic gives us some useful and fabulous tips on cleaning up our blogs!
Simplicity in the South was so kind to give us a free printable for Thanksgiving.
My boys would love this advent calendar that Twig Studio made.
Homey Home Designs shows us how to create our own snowflake pillow
Can't wait to see what you have to link up the week!
Please do not add links that promote giveaways or something you are trying to sell. Link up projects, something you have made, a craft a yummy recipe or inspiration you think others will enjoy.
2 links per person please that you have not linked up before.
Please play fair and link back in some fashion. Hint Hint….I only feature those that have a link back…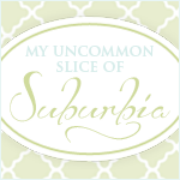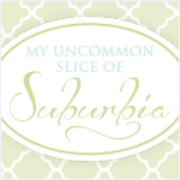 <div align="center"><a href="http://myuncommonsliceofsuburbia.com/" title="My Uncommon Slice of Suburbia"><img src="http://i775.photobucket.com/albums/yy39/Kristinsal/buttonnew-1.png" alt="My Uncommon Slice of Suburbia" style="border:none;" /></a></div>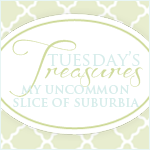 <div align="center"><a href="http://myuncommonsliceofsuburbia.com/" title="My Uncommon Slice of Suburbia"><img src="http://i775.photobucket.com/albums/yy39/Kristinsal/TuesdaysTreasuresbutton.png" alt="My Uncommon Slice of Suburbia" style="border:none;" /></a></div>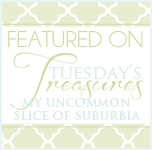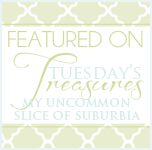 <div align="center"><a href="http://myuncommonsliceofsuburbia.com/" title="My Uncommon Slice of Suburbia"><img src="http://i775.photobucket.com/albums/yy39/Kristinsal/TuesdaysTreasuresFeaturedbutton.png" alt="My Uncommon Slice of Suburbia" style="border:none;" /></a