~Hi Friends~
I'm back from a busy fun filled busy weekend and am especially excited to share some of the fabulous links from last week!
I have to say I am  absolutely smitten with French Country Cottages woodland outdoor table with the gorgeous chandelier.  Something tells me Courtney and I  could chat for hours out here!
 Stop by Life at Lydia's House for a full cottage tour.
Check out Electically Vintage spooky Halloween.
JAQS Studio was fed up with the wasteful paper napkins and switched to cloth napkins by sewing her own, I have to say they are super adorable!
Soulstyle transformed her clients 70's bathroom into a updated and gorgeous space.
Town and Country Living has been sprucing up her gorgeous kitchen.
Love the beachy style bathroom makeover from Leen the Graphics Queen.
Smart Girl Style shows us the revolution of her living room over the years

Can't wait to see what you have to link up the week!
Please do not add links that promote giveaways or something you are trying to sell. Link up projects, something you have made, a craft a yummy recipe or inspiration you think others will enjoy.
2 links per person please that you have not linked up before.
Please play fair and link back in some fashion. Hint Hint….I only feature those that have a link back…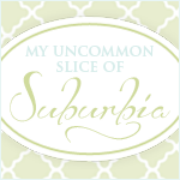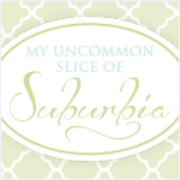 <div align="center"><a href="http://myuncommonsliceofsuburbia.com/" title="My Uncommon Slice of Suburbia"><img src="http://i775.photobucket.com/albums/yy39/Kristinsal/buttonnew-1.png" alt="My Uncommon Slice of Suburbia" style="border:none;" /></a></div>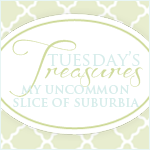 <div align="center"><a href="http://myuncommonsliceofsuburbia.com/" title="My Uncommon Slice of Suburbia"><img src="http://i775.photobucket.com/albums/yy39/Kristinsal/TuesdaysTreasuresbutton.png" alt="My Uncommon Slice of Suburbia" style="border:none;" /></a></div>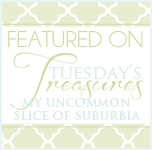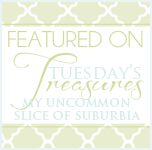 <div align="center"><a href="http://myuncommonsliceofsuburbia.com/" title="My Uncommon Slice of Suburbia"><img src="http://i775.photobucket.com/albums/yy39/Kristinsal/TuesdaysTreasuresFeaturedbutton.png" alt="My Uncommon Slice of Suburbia" style="border:none;" /></a