~Hi Friends~
Hope the week is off to a great start for you. We had our first bit of rain over the weekend so it definitely is starting to feel like fall, I love it.
You sure make it hard for me to pick out just a few features, I think I need to close my eyes and point my finger at the monitor next time.
I am super envious of 11 Magnolia Lane organized and gorgeous pantry!  Mine is in need of a overhaul…..again…..
Town and Country did a little redecorating in her fabulous dinning area.
Let's Add Sprinkles freshly painted white cabinets!  I swear, seeing oak cabinets get a fresh coat of paint never gets old!
How fabulous and fun is the pop of color in this desk makeover from Leisure Living.
Adventures in Home Improvement shows us her gorgeous back yard from her old house, the tiers are so pretty!
 Heaven's Walk mix of Bohemian and shabby gives this space a perfect cozy feel.
Domestic Imperfection made this screen door, isn't it a beauty!
I have this exact same mixer that my mom gave me, look what  Polished Life Army Style did with her's!

Can't wait to see what you have to link up the week!
Please do not add links that promote giveaways or something you are trying to sell. Link up projects, something you have made, a craft a yummy recipe or inspiration you think others will enjoy.
2 links per person please that you have not linked up before.
Please play fair and link back in some fashion. Hint Hint….I only feature those that have a link back…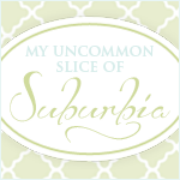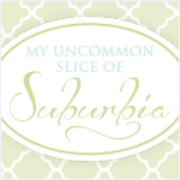 <div align="center"><a href="http://myuncommonsliceofsuburbia.com/" title="My Uncommon Slice of Suburbia"><img src="http://i775.photobucket.com/albums/yy39/Kristinsal/buttonnew-1.png" alt="My Uncommon Slice of Suburbia" style="border:none;" /></a></div>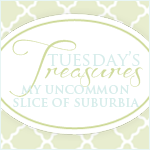 <div align="center"><a href="http://myuncommonsliceofsuburbia.com/" title="My Uncommon Slice of Suburbia"><img src="http://i775.photobucket.com/albums/yy39/Kristinsal/TuesdaysTreasuresbutton.png" alt="My Uncommon Slice of Suburbia" style="border:none;" /></a></div>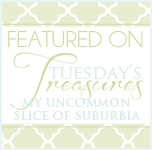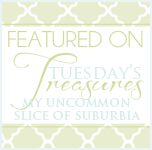 <div align="center"><a href="http://myuncommonsliceofsuburbia.com/" title="My Uncommon Slice of Suburbia"><img src="http://i775.photobucket.com/albums/yy39/Kristinsal/TuesdaysTreasuresFeaturedbutton.png" alt="My Uncommon Slice of Suburbia" style="border:none;" /></a