~Hi Friends~
Hope you had a fabulous weekend!  For the first time in a long time Ray didn't have to work over the weekend and my boys didn't have a game so we spent some much needed family time down in La Jolla at the shores.  I miss those Saturday's, it was definitely a treat for us. I also caught up on all of last week's links and I was blown away, so much eye candy to look at!
The Rusty Hinge shares all of her gorgeous touches of fall in her home, there is some serious eye candy over there!
Hello fabulous fall mantel from Eclectically Vintage.
Check out what Town and Country spotted on a recent trip to pick up some Chalk Paint. Isn't it a beauty, the best part, the hubs let her bring it home and decorate it for fall!
I love the storage solution Our Fifth House used in her beautiful bathroom!
The dedicated House stained her oak banisters, it looks so updated and beautiful!
Domestic Imperfection completed painting all of her plank walls, oh it's beautiful.
Hip to Thrift shares a gorgeous chevron baby shower with us.
~It's your turn~
Can't wait to see what you have to link up the week!
Please do not add links that promote giveaways or something you are trying to sell. Link up projects, something you have made, a craft a yummy recipe or inspiration you think others will enjoy.
2 links per person please that you have not linked up before.
Please play fair and link back in some fashion. Hint Hint….I only feature those that have a link back…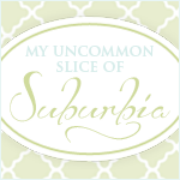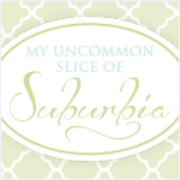 <div align="center"><a href="http://myuncommonsliceofsuburbia.com/" title="My Uncommon Slice of Suburbia"><img src="http://i775.photobucket.com/albums/yy39/Kristinsal/buttonnew-1.png" alt="My Uncommon Slice of Suburbia" style="border:none;" /></a></div>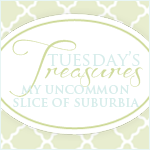 <div align="center"><a href="http://myuncommonsliceofsuburbia.com/" title="My Uncommon Slice of Suburbia"><img src="http://i775.photobucket.com/albums/yy39/Kristinsal/TuesdaysTreasuresbutton.png" alt="My Uncommon Slice of Suburbia" style="border:none;" /></a></div>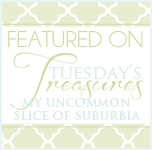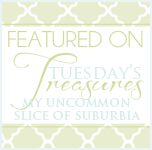 <div align="center"><a href="http://myuncommonsliceofsuburbia.com/" title="My Uncommon Slice of Suburbia"><img src="http://i775.photobucket.com/albums/yy39/Kristinsal/TuesdaysTreasuresFeaturedbutton.png" alt="My Uncommon Slice of Suburbia" style="border:none;" /></a