~Hi Friends~
Hope everyone had a fabulous weekend.  It is still blazing hot here but I managed to decorate for fall which felt a little strange while I was sweating like crazy.  Oh and I also found some little white pumpkins at Trader Joe's!!!!
~Check out some of the fabulous links from last week~
How awesome is 11 Magnolia Lane organized Pink & Silver closet, pure bliss!
I wan't to eat something yummy at Design Stash aqua and Yellow table.
Dimples and Tangles painted a accent wall with an amazing stencil, I love the gold and blue combo!
Remodellando La Casa shares all her tips and tricks for cutting crown corners!
Look what City Farmhouse created with her $10 find, awesome!
Can't wait to see what you have to link up the week!
Please do not add links that promote giveaways or something you are trying to sell. Link up projects, something you have made, a craft a yummy recipe or inspiration you think others will enjoy.
2 links per person please that you have not linked up before.
Please play fair and link back in some fashion. Hint Hint….I only feature those that have a link back…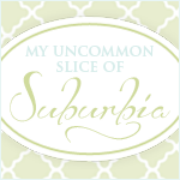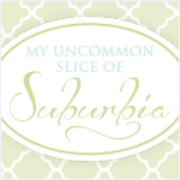 <div align="center"><a href="http://myuncommonsliceofsuburbia.com/" title="My Uncommon Slice of Suburbia"><img src="http://i775.photobucket.com/albums/yy39/Kristinsal/buttonnew-1.png" alt="My Uncommon Slice of Suburbia" style="border:none;" /></a></div>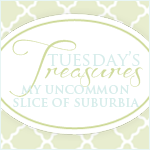 <div align="center"><a href="http://myuncommonsliceofsuburbia.com/" title="My Uncommon Slice of Suburbia"><img src="http://i775.photobucket.com/albums/yy39/Kristinsal/TuesdaysTreasuresbutton.png" alt="My Uncommon Slice of Suburbia" style="border:none;" /></a></div>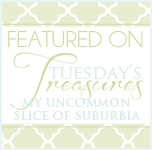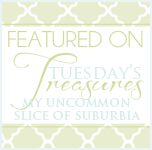 <div align="center"><a href="http://myuncommonsliceofsuburbia.com/" title="My Uncommon Slice of Suburbia"><img src="http://i775.photobucket.com/albums/yy39/Kristinsal/TuesdaysTreasuresFeaturedbutton.png" alt="My Uncommon Slice of Suburbia" style="border:none;" /></a></div>