It is that time again to gain some inspiration and link up your projects!
I'm in love with Sophia's planter box centerpiece, she has my head spinning with fall ideas!
Check out what Kristin from Simply Klassic Home created with canning jar lids, briliant!
Look at Design Dinning and Diapers fabulous industrial pumpkins!
Check out how Generation To Generation turned an Ikea dresser into a original!
Love the stencil The Blooming Hydrangea used to transform her pantry.
Life on Mars did a wonderful job transforming her laundry/mudroom!
Hello gorgeous fall mantel from Adventures in Decorating!
How pretty is this chest transformation from Bliss Ranch!
Can't wait to see what you have to link up the week!
Please do not add links that promote giveaways or something you are trying to sell. Link up projects, something you have made, a craft a yummy recipe or inspiration you think others will enjoy.
2 links per person please that you have not linked up before.
Please play fair and link back in some fashion. Hint Hint….I only feature those that have a link back…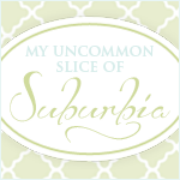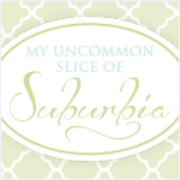 <div align="center"><a href="http://myuncommonsliceofsuburbia.com/" title="My Uncommon Slice of Suburbia"><img src="http://i775.photobucket.com/albums/yy39/Kristinsal/buttonnew-1.png" alt="My Uncommon Slice of Suburbia" style="border:none;" /></a></div>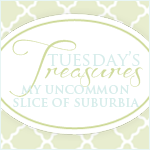 <div align="center"><a href="http://myuncommonsliceofsuburbia.com/" title="My Uncommon Slice of Suburbia"><img src="http://i775.photobucket.com/albums/yy39/Kristinsal/TuesdaysTreasuresbutton.png" alt="My Uncommon Slice of Suburbia" style="border:none;" /></a></div>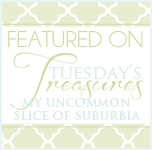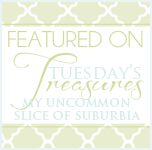 <div align="center"><a href="http://myuncommonsliceofsuburbia.com/" title="My Uncommon Slice of Suburbia"><img src="http://i775.photobucket.com/albums/yy39/Kristinsal/TuesdaysTreasuresFeaturedbutton.png" alt="My Uncommon Slice of Suburbia" style="border:none;" /></a></div>