Today I'm going to show you how to make your own homemade fruit and Vege wash. with 2 simple ingredients.
Did you ever see the Dr OZ show that showed what happened to your fruit before it hit the grocery store display? Well, I thought I was pretty good about washing my fruits and vege's…Now nothing gets put in the mouth unless it's been washed after seeing his show! I won't go into the details but it really was a eye opener! I even wash the rinds of the watermelons and cantaloupes before cutting into them. Think about all the bacteria on the outside of the skin and you just keep cutting into the melon spreading the bacteria all around. I used to always buy the vege spray at Trader Joes (my favorite store) until I found out how to make your own with two simple ingredients. Think of all the money you will save!
Now, I just fill the cute vegetable wash container with my own homemade version.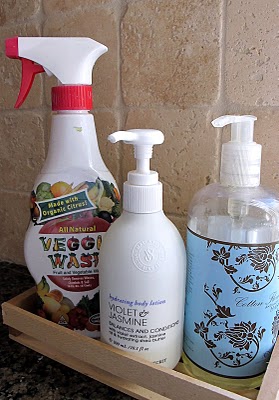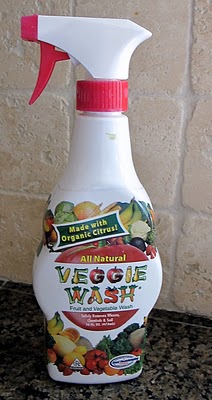 •White vinegar
•Water
Fill your spray bottle with equal parts white vinegar and water. Spray the solution onto your fruits and vegetables, rub it in and rinse.
The acetic acid in vinegar kills bacteria and helps to dissolve the wax and pesticide residues.
That's it, promise, give it a try!