Thank you for all your e-mails and comments. I feel blessed to have a whole community full of support,
Please forgive me for not getting back to anyone at this point. 
I had posted the following on my Facebook page and will most likely continue to give updates there.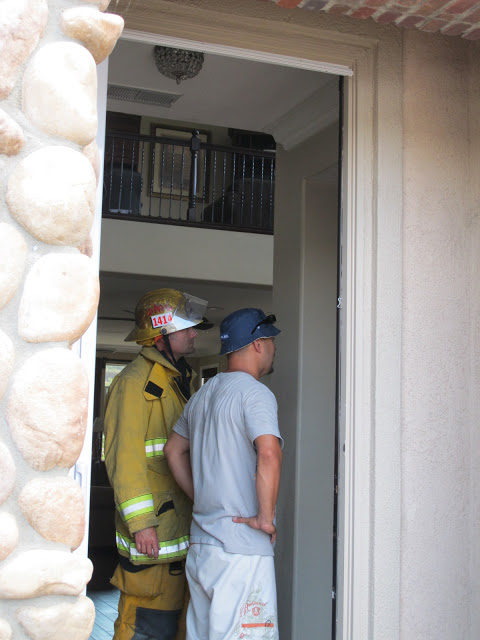 During our 

annual

 block party I was informed something was "stinky" in the bathroom. (our home is somewhat of the 

community
 bathroom during events) I placed a brand new candle in a glass jar and put it in the middle of the shower, thought it was safe. It ended up catching the plastic
han
dle on fire which then spread. We didn't hear the alarms as the music was on but I smelled the smoke. I ran inside, saw the flames, yelled for help, grabbed the hose and began to put the fire out. We are so fortunate the door was closed and the vent was on. The fire dep't said that was the only reason the fire didn't spread to the rest of the house. Our fire alarms are also connected to our fire dep't so they were here within minutes.
Our friends are amazing as they opened up every window in the black smoke, cleaned all the water up off our wood floors, brought over numerous fans and gave us a place to sleep.
The fire dept checked all the walls in the house for heat so we could feel safe. 
As I lay awake trying to sleep I realize What I am thankful for:
It was not a child that walked in on the fire
I was the one that brought the candle out, no one but me has to deal with the guilt
It's just a bathroom
No one was hurt
I think I have been so busy cleaning the small layer of ash that ever so lightly lay all over the house that I'm not sure that it all set in until today. I wake up and clean till  I can't clean anymore , my mother in law has been a huge help!   We have had people in and out of the house all day taking pictures, writing up claims, giving suggestions, testing walls and making my head spin….I mean, where does one even start? I don't know?
This is just a tiny bathroom, I can't imagine what people go through when their whole house is destroyed, my heart is heavy for them. I realize we are so incredibly blessed to have a house still standing! 
You know the part that worries me the most right now?
We have lived in this house for 10 years, paid our homeowners insurance on time in one lump sum every year, never had a claim, yet we are worried we will be dropped, we have heard the nightmares, I subscribe to consumers reports, I've read the articles, yes I'm scared!
They want to rip the bathroom down to the studs, I  want to put caution tape all over the bathroom and board it up and make it all disappear.
This is when I wish my dad was still alive, he worked in insurance for over 40 years, he would have told us exactly what to do.
Please forgive any grammar errors, rants or misspellings. Just a girl putting it all out there for you, please don't judge.
Update:  The homeowners insurance paid for everything but our deductible and raised our monthly bill by $500.00