Fathers Day is on Sunday and I've curated a sampling of last-minute Father's Day gift ideas below.  I've been so busy with family stuff and working on other projects that father's day snuck up on me, thank goodness for fast shipping and in-store shopping! Let's just hope that my husband doesn't read this post as a few of these things may be gifts for him. Most of these items ship quickly for last-minute shoppers like me and many of these items are tried and true!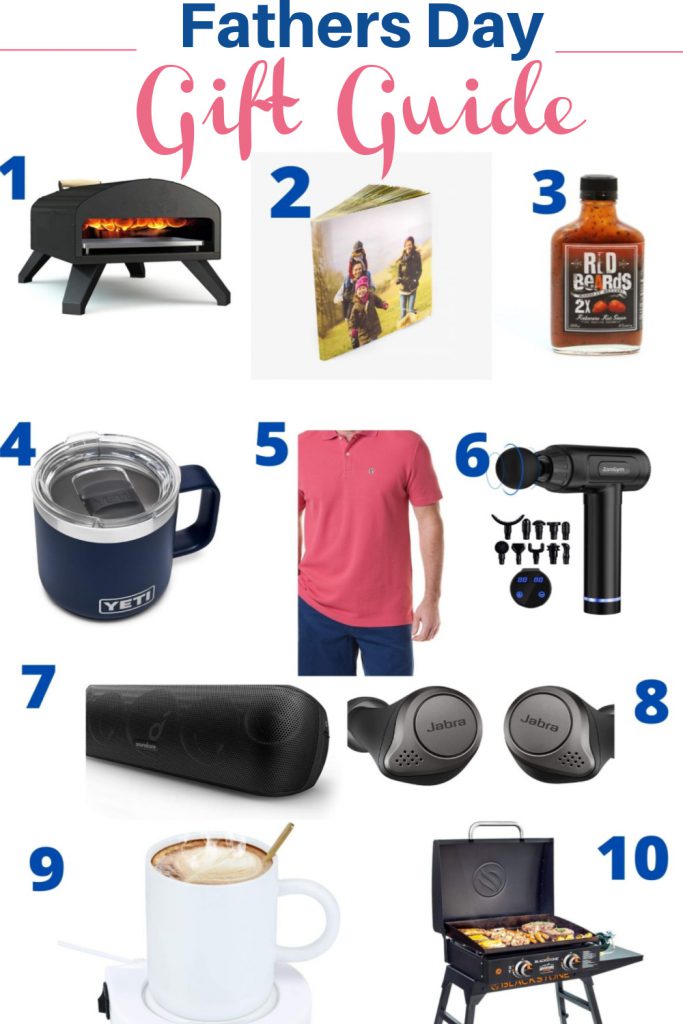 Please note that this post contains affiliate links. As an Amazon Associate and Rewards Style influencer I earn from qualifying purchases and any sales made through such links will reward us a small commission – at no extra cost for you.
#1
Bertello Outdoor Pizza Oven Black
The Bertello Pizza Oven is high quality, portable, wood fire, charcoal, pellet, and gas outdoor pizza that makes amazing pizzas!  You can take it with you to any outdoor setting and achieve restaurant-quality results in your own backyard.   We love setting this up by the BBQ and grilling our Vegetables, throwing them on top of the pizza and having incredible homemade pizza in just minutes!
#2
I love making photo books for gifts, they add such a personal touch!  However, if you are waiting till the last minute like me, thank goodness for Wallgreens.  They have same-day services where you can pick it up in-store after you place your order online.
#3
We found this amazing company at a local farmers market, the hot sauce and dry rubs were incredible! You can impress your guests with amazing hot wings,  shrimp cocktail, or how about a delicious bloody mary!  You can find them locally in Southern Cal or order online.
#4
For the outdoorsmen in your life, this is the perfect mug that will keep his coffee hot first thing in the morning! Ray loves all of his YETI items for his camping/off roading trips!
#5
Castaway Clothing is traditional coastal clothing that has passed the test of time.  You can find everything from embroidered Bermuda shorts, seersucker shirts, corduroy pants, and more.  The quality is exceptional, shipping is fast, and extremely stylish clothing.  My husband loves the pullover sweatshirts and my boys are rocking the stylish swim trunks for summer!
#6
Help dad feel better with a massage gun, it is great for soothing sore muscles and aching joints!  We have had this one for over a year and it gets used multiple times a day!
#7
A perfect speaker you can use both indoors and out. At 10 inches wide and about 2.3 pounds, it delivers an impressive sound for its size.
#8
Jabra's wireless earbuds are built with a Transparent Mode that lets in ambient noise and they're water-resistant to light sweat and rain.  They're one of the best all-around sets you can buy due their small size and touch controls at a fraction of the price of the more popular brands.
#9
If your dad is constantly reheating his coffee this is the perfect gift!. Keep beverages warm all day with this cup warmer!  It's compact yet fits lots of cups; such as metal, ceramic, enamel, tile, glassware.
#10
Blackstone 22″ Tabletop Griddle with Griddle Hood and Stand
The Blackstone Griddle is perfect for making outdoor grilled meals with ease. It is portable and is quick and easy to set up. My husband brings his on all of his off-roading trips but also makes us amazing teppan Japanese food right in our back yard.  It's also perfect for burgers, hot dogs, steaks, and much more.