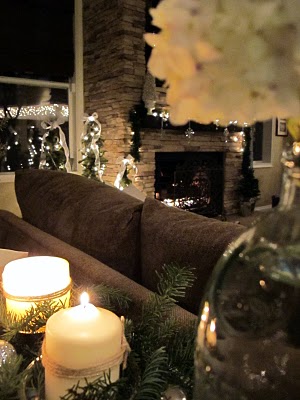 Hope you all had a wonderful weekend!
We had lots of fun activities planned but somehow I ended up with the flu, no fun.
I'm all better now, just tired.
Many nights after dinner and before baths we enjoy taking walks around the neighborhood to look at all the Christmas lights with the kids.
Sometimes you see a little glimpse into someones home…I feel guilty but there is something fascinating about it all at the same time. (don't worry, I'm not a weirdo)
It must be why I love blogs so much,
the little peeks give me a chance to indulge in the guilty pleasure of
how others decorate their homes.
So here is a little peek into my home at night if you were to walk by after 6pm.
How about you, do you enjoy getting little glimpses of other peoples homes?
Don't forget you have this whole week to enter my giveaway!
XOXO
Kristin