Memorial Day weekend is here which means our annual block party is upon us.  Have I mentioned how many amazing cooks we have in our neighborhood?  Seriously, no need to eat out when you can have the best of the best.  I'll be making some appetizers to share so I thought I would round up some of my favorites, all easy to make and most definitely all crowd pleasers!
Roasted Pepper and Mozzarella Bites
Cheesy Jalapeno Pull Bread Recipe
Salt and pepper shrimp with aioli
Double Tomato Bruschetta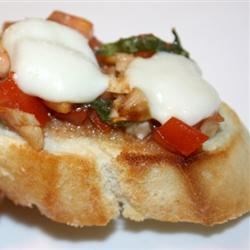 Spinach & Brie-Topped Artichoke Hearts
One of my all-time favorites is roasted garlic smeared on a baguette, yummy!
Shrimp Rolls
Stuffed Mushrooms
Creamy Artichoke Dip