I felt so inclined today after reading the sweetest post from an amazing woman yesterday to pay it forward! There have been so many incredible women who have supported me with their words of encouragement and affection! I have heard of the mean spirited jealous bloggers that are out there and I have yet to encounter that. I guess I have been very fortunate! Every single one of my readers have hearts the are so giving, words that have touched me like no other, encouragement that is sometimes hard to find and ones who have sent prayers in times of sadness! For that I thank you! Thank you for being you, as woman we need to stick together! I honestly wish I had the time to sit here and individually thank each and every one of you but for today I'll start with a few and look forward to doing this more often.
Maria from Dreamy Whites, yes I'm sure you have all spent some time over at Maria's blog and most of you most likely know that she is one of the sweetest ladies out there! Her blog exploded overnight yet she remains just as real and genuine as she was on day one! She still drops by just to say Hi and say "been thinking of you"! She is one of those down to earth ladies and have had such a wonderful time getting to know her. Thank you Maria for just being you and for sharing with us your ever so inspiring design talent!
Maria's living room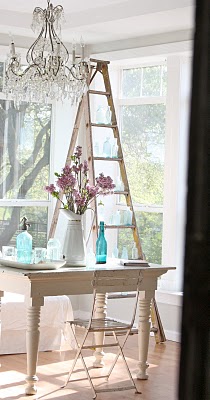 Next is Mara from Home Shabby Home. She lives in Padova, Italy and sent me the sweetest e-mail a few weeks ago and we have had so much fun corresponding almost every day since then! Mara and her husband and beautiful girl are in the process of building a new home. She has exquisite taste and I look forward to watching the process of her home being built. Meanwhile this is what gives her inspiration, I know, gorgeous! Thank you Mara for your kind heart and for sending me that first e-mail!
Image from Landstil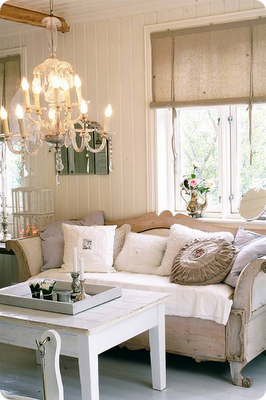 ZAIRA from Little Emma English Home is from Italy and is just a doll! I'm telling you I can't wait to go back so I can meet all these wonderful ladies in person! Zaira shares her passions, desires, inspiration and more about her interior life. She is so kind hearted and a joy to talk to! She posts the most amazing inspirational photo's that put you in dreamland! I have definitely found some fabulous photos from her for the boys bathroom! Thank you Zaira for always stopping by and putting a smile on my face!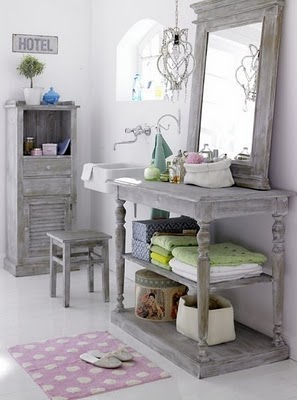 And who had me in tears yesterday? Yes it was the ever so sweet Karla from The Classy Woman. Karla has so many wonderful tips on being classy and fabulous and not spending a fortune! Her book is coming out next month and I can't wait to get my hands on it!
Here is what Karla had to say on her post (Hope you don't mind Karla)
You might remember that Kristin of My Uncommon Slice of Suburbia was the winner of our Clinique Spring Giveaway last month. She is also a super sweet, positive woman that I've come to know over the past few months. She also regularly has a kind comment to leave on my blog and she is so warm and genuine. She is a Classy Woman all the way!
Not only did she say thank you but she wrote a super sweet e-mail to me and even included me in a post on her blog! She was so excited that she included me in THIS post after the mailman delivered her package. She also added me to her blogroll months ago so others could find me. 🙂 I wanted to thank Kristin as her links to my blog brought in more new visitors this past month of April than any other source which I was amazed to learn. Her blog has been very successful in the few short months that she's been blogging about beautiful decor and home transformations on a budget. She recently hit the 500 follower mark and her kitchen has even landed a spot in Better Homes and Gardens' upcoming Kitchens & Bath issue. Good things come to good people. 🙂
Thank you Karla and thank you to all my readers you really have touched me in accepting me into your blog world with open arms! Enjoy your day!
XO
Kristin