I'm not sure where to begin.
My heart is full, overflowing actually!
The personal e-mails we have received have touched me like no other.
People that have lost everything including their family pets have some of the most encouraging words. I can't even begin to compare our small bathroom fire to the loss they have been through. I have to say It's an incredible feeling to be surrounded by so many positive and loving people even from afar.
I'm ready to get things back to normal around here. So why not start this week off right, how about a fun giveaway! With all the cleaning I have been doing around here I have to say Bon Ami is pretty fabulous! Yes, the same Bon Ami that our grandparents used!
No residue, no fumes, no scratches, simple ingredients, nontoxic, biodegradable and all the ingredients are proudly listed right on the package.
Speaking of the packaging,
the cake comes in the most adorable vintage tin can!
The multifunctional Cleaning Cake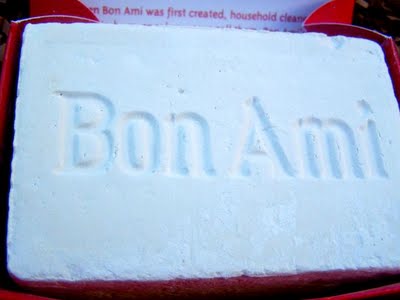 It cleans glass, windows, tile, stainless steel, mirrors, pots and pans, sinks, bathtubs, you name it! Simply wipe a damp sponge or cloth across the cleaning cake, then use the cloth to clean. Then rinse with water until the shine comes through. One cake is good for hundreds of cleanings.
One bottle of All Purpose Cleaner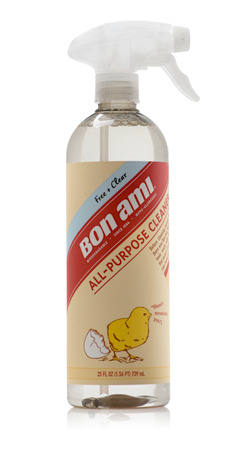 I love this stuff, you can use it on everything, including stainless steel and granite, no residue, no streaks, just sparkles! I used this on the wood floor to clean up the ash and it did an incredible job!
One can of Powder Cleaner
You know the "other" powder cleaners that leave behind the white residue, not this! This formula starts with vegan, plant-based cleaning agents made from coconut and corn oils, a little bit of soda ash and a touch of baking soda.
Simple and fabulous!
Leave me a comment and I'll throw your name in a hat or random.org
Come back and leave me a separate comment letting me know.
You have till Sunday July 18th, I'll announce the winner on Monday!