thank you for all your sweet comments!
I made my garden sign a little different then my previous signs so I thought I would give you the low down.
Found a piece of scrap wood and spray painted it
Printed out my letters and traced over them using carbon paper
Took a sharpie and colored the letters in
Took some sample paint I had in the garage and lightly brushed over the wood
Wiped it off with a damp rag, added some stain and sanded it very lightly
Here are some of my favorites from last week!
Love this end table transformation from
How about you? What have you been working on?
Link up, grab a button and have fun!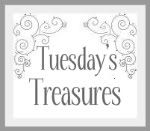 XOXO
Kristin