~Hi Friends~
Hope the beginning of the week is off to a great start for you.  Are you ready for some fabulous eye candy from last week!
So Much Better With Age added a functional and stylish  office space to her kitchen, I'll admit, I'm a little envious.
Passion Shake gave this wooden chair a fabulous transformation with a fun shade of pastel paint.
Check out this beautiful Vintage Fan Makeover from Liz Marie, she simply spray painted it!
There is nothing better then a cup of afternoon tea. Orphans with Makeup gave this tea cart the most stunning makeover.
Involving Color answers all of your questions regarding her beautiful no sew roman shade.
Having problems keeping the house clean?  Snippets of Inspiration came up with a plan that has worked wonders for her.
Daisy Mae Belle's new deck is simply charming!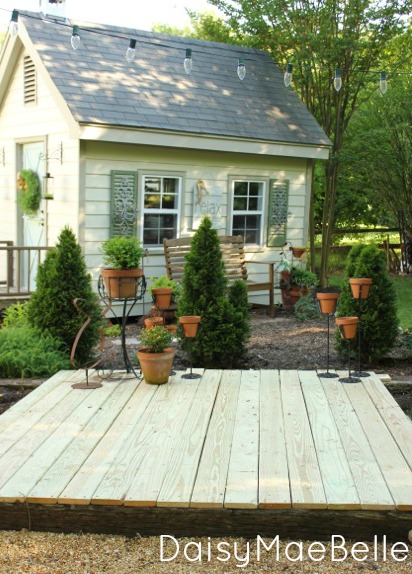 Can't wait to see what you have to link up the week!
Please do not add links that promote giveaways or something you are trying to sell. Link up projects, something you have made, a craft a yummy recipe or inspiration you think others will enjoy.
2 links per person please that you have not linked up before.
Please play fair and link back in some fashion. Hint Hint….I only feature those that have a link back…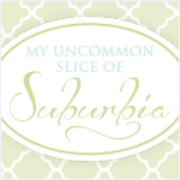 <div align="center"><a href="http://myuncommonsliceofsuburbia.com/" title="My Uncommon Slice of Suburbia"><img src="http://i775.photobucket.com/albums/yy39/Kristinsal/buttonnew-1.png" alt="My Uncommon Slice of Suburbia" style="border:none;" /></a></div>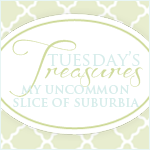 <div align="center"><a href="http://myuncommonsliceofsuburbia.com/" title="My Uncommon Slice of Suburbia"><img src="http://i775.photobucket.com/albums/yy39/Kristinsal/TuesdaysTreasuresbutton.png" alt="My Uncommon Slice of Suburbia" style="border:none;" /></a></div>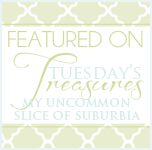 <div align="center"><a href="http://myuncommonsliceofsuburbia.com/" title="My Uncommon Slice of Suburbia"><img src="http://i775.photobucket.com/albums/yy39/Kristinsal/TuesdaysTreasuresFeaturedbutton.png" alt="My Uncommon Slice of Suburbia" style="border:none;" /></a