~Welcome to Tuesday's Treasures~
I finished planting my garden today so we will have lots of vege's come summer, I'm so excited!
Can I ask you a HUGE favor, pretty please???
If I happen to be on your blog-roll and it still has the Epsom Salt Easter Eggs do you mind manually adding me?  Some of your blogs automatically transferred my word press address while other blogs did not. It is actually the same domain so you might just have to delete and then add again. I have no idea why, I'm not a technical person at all. Here is a step by step if you need help.
Thank you thank you thank you!!!
Is this not the cutest settee makeover from Little House In The Big D!
Remodelando Casa gives us the gorgeous reveal of the family room!
From the bedding to the mirror to the wall color, I love everything about this master bedroom makeover from The Velvet Door!
Decorating Ideas Made Easy gives us a tour of her beautiful porch!
Have you seen At The Picket Fence powder room reveal, how awesome are those pops of orange!
I love Keeping It Cozy farmhouse kitchen, so much work was put into this space.
I love DIY Design Fanatics front porch makeover, the pop of green is gorgeous Pam!
Can't wait to see this weeks links!
Please do not add links that promote giveaways or something you are trying to sell. Link up projects, something you have made, a craft a yummy recipe or inspiration you think others will enjoy.
 2 links per person please.
All of my buttons should be working this week but please drop me a note if you are having problems.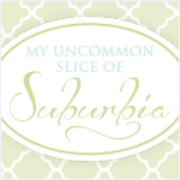 <div align="center"><a href="http://myuncommonsliceofsuburbia.com/" title="My Uncommon Slice of Suburbia"><img src="http://i775.photobucket.com/albums/yy39/Kristinsal/buttonnew-1.png" alt="My Uncommon Slice of Suburbia" style="border:none;" /></a></div>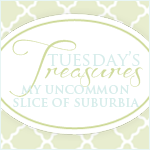 <div align="center"><a href="http://myuncommonsliceofsuburbia.com/" title="My Uncommon Slice of Suburbia"><img src="http://i775.photobucket.com/albums/yy39/Kristinsal/TuesdaysTreasuresbutton.png" alt="My Uncommon Slice of Suburbia" style="border:none;" /></a></div>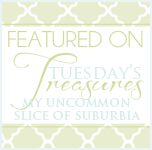 <div align="center"><a href="http://myuncommonsliceofsuburbia.com/" title="My Uncommon Slice of Suburbia"><img src="http://i775.photobucket.com/albums/yy39/Kristinsal/TuesdaysTreasuresFeaturedbutton.png" alt="My Uncommon Slice of Suburbia" style="border:none;" /></a></div>